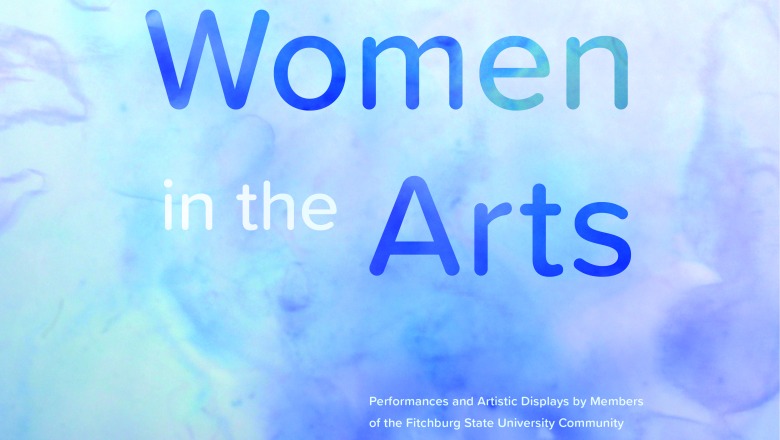 The program, held in Kent Recital Hall in the Conlon Fine Arts Building at 367 North St., will feature music, visual art, poetry, and film by women from the university community, including students, faculty, staff, and administration.
"We're celebrating the creative force of women artists, including exhibiting paintings, musical performances, poetry readings, and short film screenings, all in one place, and for free," said Professor Jonathan Harvey, a member of the committee organizing Fitchburg State's month-long series of events.
The event is co-sponsored by Women, Gender and Sexuality Studies; Feminist Conversations; and the Department of Economics, History and Political Science at Fitchburg State University.
Upcoming Events
The annual Lead(h)ership Conference will be held from 2 to 5 p.m. Friday, March 29 in Hammond Hall. The theme for this year's event is "Breaking Boundaries," and is co-sponsored by Women, Gender and Sexuality Studies and Feminist Conversations.  Feminist Conversations, a recently formed student group on campus, has designed this conference as a series of workshops in which participants will literally break barriers in their exploration of contemporary gender-linked issues. Aligned with the theme of the conference, this year's sessions will challenge traditional conference formats, and offer instead practical, interactive, and collaborative sessions in which attendees will be active and engaged participants focused interviewing skills, brand management, and self-care. While there will be sign-ups to reserve a spot, the registration process will not be prohibitive; students will be able to walk into any of the sessions. This event is open to anyone who would like to attend, regardless of their gender practice or identification. Please email femcon@student.fitchburg.edu to register.
Boston Globe Associate Editor and Columnist Renée Graham will deliver the annual Nancy Kelly Memorial Lecture at 4 p.m. Thursday, April 11 in Presidents' Hall in the Mazzaferro Center, 291 Highland Ave. "Women on the Hill: 2018 and Beyond" is co-sponsored by the University's Economics, History and Political Science Department; the English Studies Department; Women, Gender and Sexuality Studies; and Feminist Conversations.
The university's Women's History Month observances are organized by a committee including faculty members DeMisty Bellinger-Delfeld (English Studies), Katharine Covino-Poutasse (English Studies), Viera Lorencová (Communications Media), Özge Ozay (Economics, History and Political Science), Jonathan Harvey (Humanities) and student Kaitlynn Chase, from the Feminist Conversations club.
Fitchburg State University will spotlight "Women in the Arts" at 4 p.m. Thursday, March 21 as part of its observance of Women's History Month. Admission is free and open to the public.