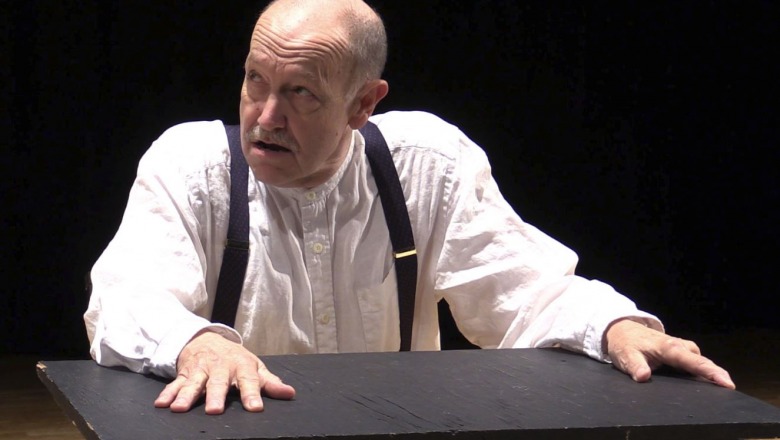 Just days after the successful run of the McElvain-directed Into the Woods – the University's first musical theater production in more than a decade – he will bring his acclaimed adaptation of Stefan Zweig's short story The Chess Player to the Wallace Theater for the Performing Arts at the McKay Complex, 67 Rindge Road, at 6:30 p.m. Wednesday, Nov. 29.
Admission is $20 for the public and $10 for students, with all proceeds going to support students' upcoming trip to Scotland for the Edinburgh Fringe Festival, the world's largest theater festival. Tickets will be sold at the door.
It was in Edinburgh that McElvain first performed The Chess Player, a one-man play about a man struggling to maintain his sanity in solitary confinement at the hands of the Nazis. Reviewers described McElvain's performance as "masterful," and "astonishing," and called the show "an absolute must see."
McElvain plays five majors characters in the 75-minute show, along with half a dozen smaller roles. It's a high-wire act, but one he relishes. "It's a personal dare, and something you can only do in theater," he said. "There's real magic. It's a game of catch you're playing with the audience."
That immediacy is the power of live theater in general, he continued. "It's really there, it's really happening," he said. "It's something that is unique to every performance. It's a precious thing to have, and to engage in."
McElvain helped shape live theater at Fitchburg State for 20 years, mounting annual productions in addition to his teaching, from farcical comedies to gut-wrenching dramas, with titles from Shakespeare to new works, some written by Fitchburg State alumni.
McElvain is retiring from Fitchburg State, but not from the footlights. "I'm returning to my professional career," he said. Thanks to a Fulbright scholarship, he will spend five months in Finland and London with The Chess Player, and is looking at other international engagements for the production.
He's also proud of his legacy at Fitchburg State, from bringing students to the Edinburgh festival every three years since 2000 to helping young thespians and crew members reveal their talents to themselves and the world around them.
"It feels great," he said. "I've got a lot of great memories, and I've done as much as I can do. Now it will be someone else's turn."
The curtain rises on Professor Richard McElvain (Communications Media)'s final production at Fitchburg State next week, and the accomplished actor and director is going out with a flourish.