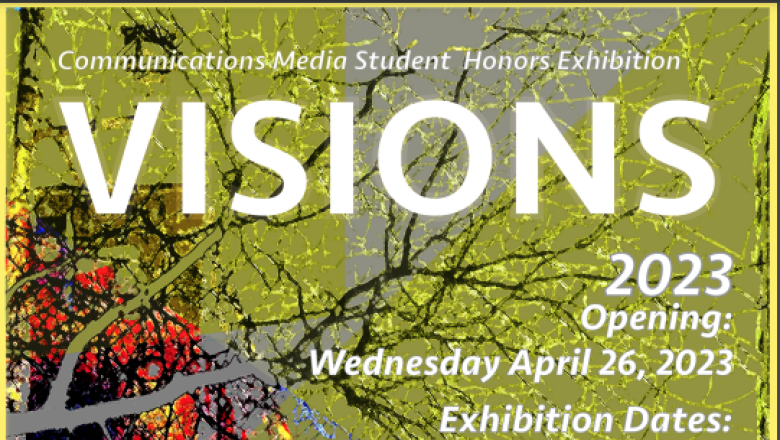 The best original work by students at Fitchburg State University's Communications Media Department will be presented at the annual Visions exhibition, opening Wednesday, April 26.
Visions will feature an alumni panel talk, student presentations, art exhibition, game design student presentations, theater showcases and a film/video screening. 
The Visions events, which start at 3:30 p.m. in Hammond Hall, 160 Pearl St., are free and open to the public.
"This is the one time of the year when our students get to step back from their projects for a few hours and recognize all the concentrations and majors as part of a greater whole," said Coe McIninch, chair of the Visions committee. "It's a time to experience all the amazing work that the students in our department are capable of. We want people to come ask questions, network, listen, watch and play."
Each year one student is chosen to design the artwork that will be used in the posters around campus and in social media posts. This year's artwork was created by Karla Taveras Guerra of Providence, R.I.
"Looking back at all the previous Visions poster designs, one can see how undoubtedly everyone has a different vision, and so being part of those who get to share their vision is truly an honor," Guerra said. "As a student who has shared work in this exhibition, I can say that I have gained a new perspective on my presented work. It will get you inspired and thrilled to continue discovering your voice–or well– your vision as a designer."
Community members are invited to join the Communications Media Department's students, faculty and staff in celebrating the talent and creative accomplishments of students at the celebration on April 26. The program begins with the alumni panel talk at 3:30 p.m. in Ellis White Lecture Hall in Hammond Hall, followed by the Visions Forum at 4:30 p.m., also in Ellis White.
At 5:30 p.m. there will be an opening reception in Hammond Hall, including a gallery opening at the Hammond Hall Art Gallery and game design demonstrations elsewhere in the building. The events will move to Weston Auditorium for a theater showcase at 7 p.m. followed by a film and video screening at 8 p.m.
Learn more at fitchburgstate.edu/visions.