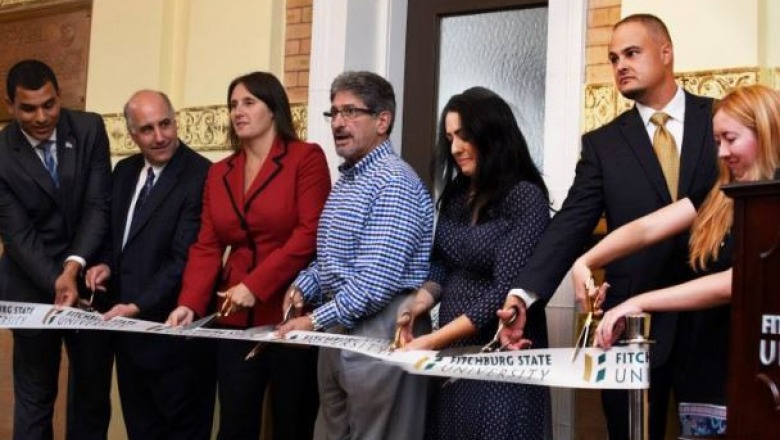 "We gather today to demonstrate this institution's commitment to the men and women who have served this nation with honor, and look now to broaden their own horizons through higher education," President Richard S. Lapidus said. "The Veterans Center we dedicate this afternoon is symbolic of a larger and ongoing effort at Fitchburg State University. I am proud of this institution's efforts to welcome returning veterans, and I'm honored we have created a space on this campus for these men and women to gather, collaborate, reflect and learn.
Secretary Ureña was sworn in as secretary of the Department of Veterans' Services by Governor Charlie Baker on Feb. 6, 2015. He enlisted in the U.S. Marine Corps the day after graduating from high school, and his eight years of service included diplomatic security with the Department of State at the American embassies in Damascus, Syria and Bishkek, Kyrgyzstan. He received a Purple Heart in recognition of injuries sustained during Operation Iraqi Freedom campaign.
Ureña followed his enlistment with a degree in History and Legal Studies from the University of Massachusetts, Lowell. "It was a turning point," he said, describing higher education's transition to serving a population of returning veterans. "How do we make sure that veterans are being taken care of?"
He said dedicated space like Fitchburg State's Veterans Center was a critical step.
"I really congratulate Fitchburg State and the leadership here for initiating this great space to allow vets to gather," Ureña said.
Fitchburg State faculty and administrators have spent the past year collaborating on efforts centered on meeting the needs of returning veterans, including presentations from outside experts.
Russell Jones of Fitchburg helped start the Student Veterans Organization on Fitchburg State's campus. A 2000 graduate of Fitchburg High School, Jones enlisted in the U.S. Marine Corps and served for four years. He was among the first wave of Marines to cross the border in the Iraq war in 2003.
"A lot of my family members served," he said. "I just felt like it was the right thing to do. It made me who I am. I learned so much and made so many friends."
Jones entered the workforce after completing his tour of duty and later decided to pursue a college education. He received an associate's degree from Mount Wachusett Community College and enrolled at Fitchburg State in 2013. He plans to graduate in December with a degree in business administration with a concentration in marketing.
After meeting several other former service members during his studies, Jones said the Veterans Center will be a welcome addition to the campus.
The Student Veterans Organization will not only help student veterans to meet and socialize, but will serve as vital assistance for many veterans as they make the difficult transition from military life into college.
"It will become a safe haven for returning war vets with PTSD that without it would not be able to attend college in person," Jones said during the dedication ceremony. "This Veterans Center will provide critical support for that mission. The Fitchburg State University Student Veterans Organization will become an example to other colleges that do not yet have veterans programs of their own. It will become a training ground for success, and in turn its members will make Fitchburg State University proud. On behalf of all the student veterans here, and many to come, I thank you."
The Student Veterans Organization is awaiting formal recognition by the University's Student Government Association. It has a slate of officers and faculty advisors James Noonan (Business Administration) and George Bohrer (Communications Media), both of whom served in the Armed Forces.
Jones plans to transfer leadership of the club to underclassmen to help give it longevity. "I just want to make sure it's here for future generations," he said.
As part of its expanding commitment to serving U.S. military veterans, Fitchburg State University formally opened its Veterans Center in Thompson Hall on Tuesday, Sept. 22. Massachusetts Department of Veterans' Services Secretary Francisco A. Ureña was among the guest speakers at the ceremony.