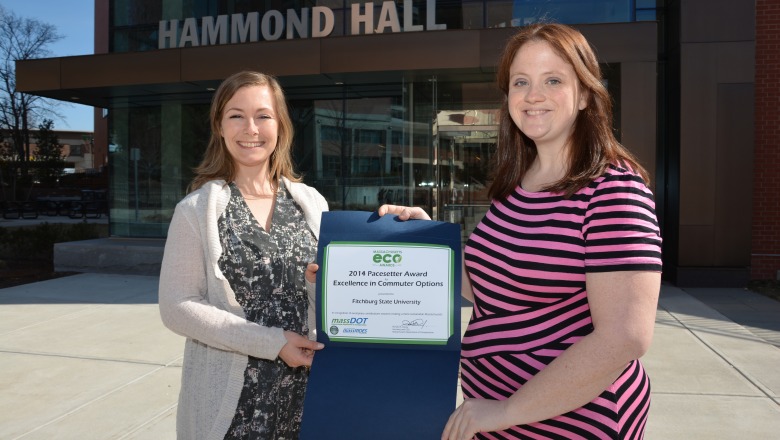 Coordinator of Commuter Affairs and Leadership Rebecca Lindley accepted the 2014 Pacesetter Award for Excellence in Commuter Options (ECO), which was presented in recognition of exemplary contributions toward creating a more sustainable Massachusetts.
The Massachusetts Department of Transportation presents the ECO Awards to celebrate employers and their efforts to reduce congestion and greenhouse gas emissions by encouraging employees to utilize green transportation options. Such employers make a difference by encouraging employees to travel to work by public transit, bicycling, walking or through the promotion of carpools and vanpools. This year's ceremony was held March 26 at Fenway Park.
Nearly half of Fitchburg State's student population commutes to campus each day and its Commuter Affairs program helps students identify carpooling opportunities, provides peer mentoring and sponsors daytime programming that contributes to commuting students' sense of connection with the campus community.
The office presents a "Commuter Appreciation Week" each spring with additional programming. This year's program, held in late March, kicked off with a commuter-targeted breakfast with President Robert V. Antonucci, who was a commuter student during his undergraduate days at Fitchburg State. The week also featured free massages in the campus center, games and activities.
The Massachusetts Department of Transportation recently recognized Fitchburg State University for its commitment to creating green options for commuting students.