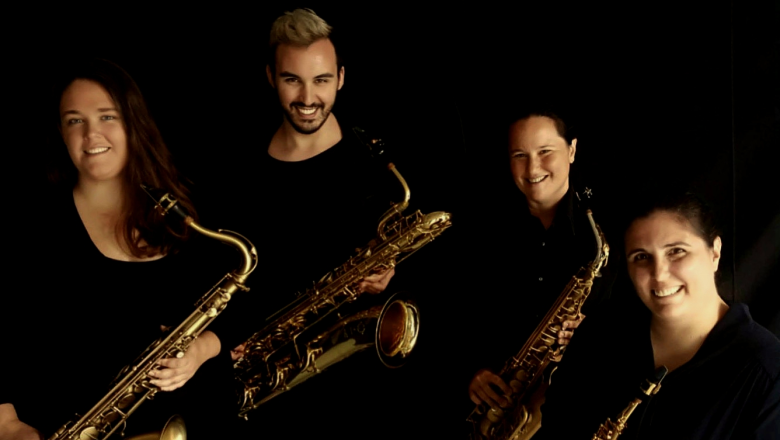 The Pharos Quartet will begin their 2022-23 concert season with a concert at 7 p.m. Monday, Nov. 7 at Fitchburg State University's Weston Auditorium, 353 North St. Admission is free and open to the public.
The Pharos Quartet, composed of four saxophone players, will present modern compositions by composers Eugene Bozza, Stephen Beck, David Masklanka, Erika Svanoe, John Wallace, and Zack Browning.
The quartet includes Fitchburg State faculty members Amy McGlothlin and Jennifer Bill of the university's Humanities Department, as well as musicians Emily Cox and Zach Schwartz.
About the Pharos Quartet
Based in Boston, the Pharos Quartet is a stirring musical collaborative formed by four New England saxophonists: Jennifer Bill (soprano), Amy McGlothlin (alto), Emily Cox (tenor), and Zach Schwartz (baritone). Their unique combination of ideas, styles, and expressions brings the sound of the saxophone quartet to a new apex. With a vivid repertoire, balanced between notable pioneers as well as visionaries of tomorrow, Pharos maintains a steady appetite for today's most demanding saxophone quartet literature. Their concerts are stimulating, entertaining, and unpredictable. Its members bring together their own international performance experience and fuse it into a distinct chamber music event. 
Pharos has held concerts in Boston, Rhode Island, West Virginia, Virginia, Pennsylvania, Ohio, and in Western Massachusetts. The quartet continues to enjoy performances of their first commission, Justin Casinghino's Thinking in Four Places (2018), which explores four global drumming traditions through saxophone quartet and '80s synth drum machine. Other commissions include Rift (2019) for saxophone quartet and piano by Thomas Weaver, and,  as part of a consortium led by Prism Quartet, a new saxophone quartet piece by Martin Bresnick to be premiered in 2022.