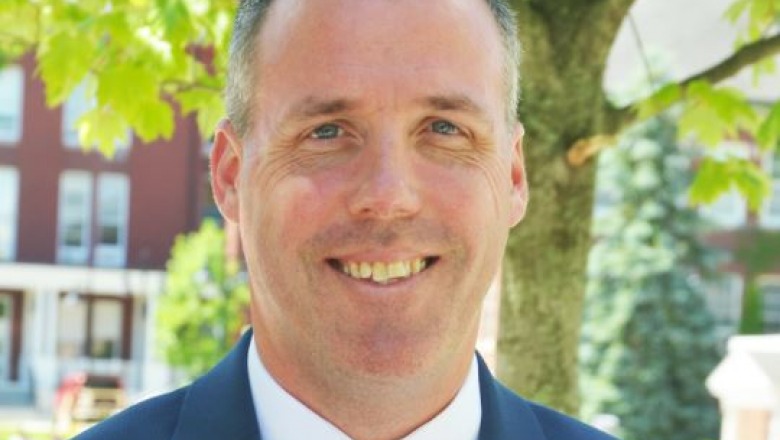 "My philosophy is grounded in what Division III is all about," he said. "The number one priority is to be a student, and earn their degree. I also believe that athletics provides a lot of valuable life lessons. I want every student-athlete to represent the department with pride, wherever they are."
Burke comes to Fitchburg State following the retirement of longtime Athletic Director Sue Lauder, whose 22-year tenure with the Falcons included being named the DIII Under Armour Athletic Director of the Year in 2017. That honor was bestowed in recognition of Lauder's efforts to enhance athletics and recreation opportunities at the University, including the addition of women's varsity lacrosse and volleyball.
"I am excited about the leadership and vision that Matt Burke will bring to Falcon athletics," said Vice President for Student Affairs Laura Bayless. "Sue Lauder's retirement left big shoes to fill, and I know that Matt's strong experience has prepared him well to lead our athletic department to new heights."
Burke's career at Mount Ida College dates to 1998, including the last seven years as executive director of athletics. His time there included expansion of athletic facilities and addition of new varsity sports.
At Fitchburg State, Burke said he hopes to support the University's student-athletes with similar passion. "I believe in an individualized approach, and I want to see improvement for students academically as well as on the field," he said.
Matthew J. Burke is ready to take Falcon Athletics to the next level as Fitchburg State's new athletic director. Arriving at Fitchburg State following a lengthy tenure at Mount Ida College, Burke sees a lot of potential at his new institution. Like Mount Ida, Fitchburg State competes in the NCAA's Division III.