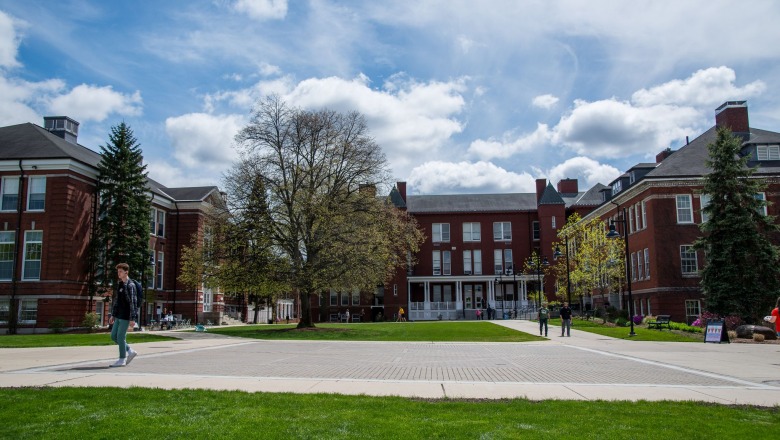 Fitchburg State University will support homeless students as part of the Commonwealth's "Moving to College" scholarship program, designed to support unaccompanied homeless youth from the state as they embark on a college degree.
Scholarships for up to 20 students are funded through the U.S. Department of Housing and Urban Development's (HUD) Moving to Work program administered by the Department of Housing and Community Development, with additional support provided by the Department of Higher Education, the Unaccompanied Homeless Youth and Young Adult Commission and participating campuses. In addition to Fitchburg State, participants include Mount Wachusett Community College; Berkshire Community College; Framingham State University; Massachusetts Bay Community College; Massachusetts College of Liberal Arts; North Shore Community College; and Salem State University.
"This is a critical initiative that will open doors of opportunity to students," Fitchburg State University President Richard S. Lapidus said. "In alignment with our core values of access and affordability, we are proud to work with our partners to support the collegiate aspirations of the students in this program."
Applications for the program are due March 1. For more details and application information, visit https://www.doe.mass.edu/sfs/edstability/mtc.html.
What's Covered
Year-round, On-campus Housing

Meal plans

Case management and other support services
What's Not Covered
Tuition & fees

Books and supplies

Transportation
Student Eligibility
Other Requirements
Applicant must complete the Free Application for Federal Student Aid (FAFSA).

Applicant must provide proof of enrollment at a participating institution no later than July 1.

Applicant must maintain full-time enrollment (12 or more credits) in a degree-seeking program and maintain passing grades in order to be eligible for a renewed scholarship. In some instances, campuses may grant a waiver to a student who, for a variety of reasons, may need to temporarily reduce his/her/ their course load.

While there is no GPA requirement, students must maintain academic and behavioral standing as defined by the campuses where they are enrolled and (if different) reside.

Applicant must agree to meet regularly with a member of the Moving to College support team to develop academic year, summer and post-graduation plans.

Applicant is required to choose one of the following options during Summer terms: 1. remain enrolled in at least two courses, 2. work full-time, or 3. enroll in one course and work part-time.