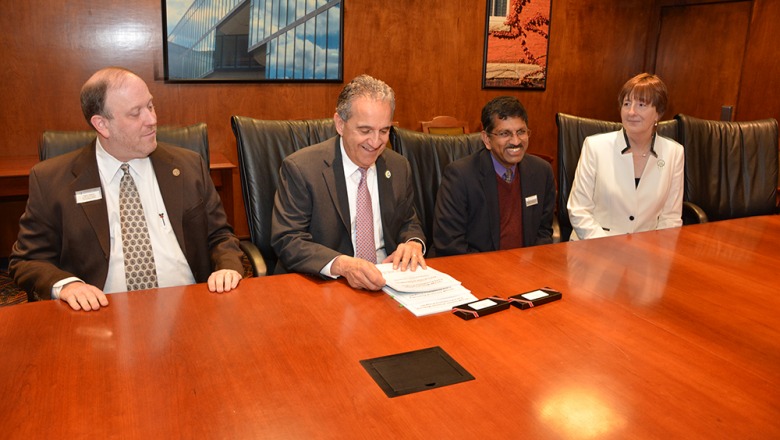 The agreement outlines early acceptance opportunities for Fitchburg State students interested in LECOM's programs, including doctor of osteopathic medicine, doctor of dental medicine and doctor of pharmacy.
LECOM is a private institution with a main campus in Erie, Pa. as well as branches in Greensburg, Pa. and Bradenton, Fla. Its mission is to prepare students to become osteopathic physicians, pharmacy practitioners, and dentists through programs of excellence in education, research, clinical care, and community service to enhance the quality of life through improved health for all humanity. The professional programs are dedicated to serve all students through innovative curriculum and the development of postdoctoral education and inter-professional experiences.
"This agreement will open doors of opportunity to our students," President Antonucci said. "With our new, state of the art science facilities, and a rejuvenated chemistry major, we are well-positioned to prepare students for careers in the health sciences. This agreement with the Lake Erie College of Osteopathic Medicine provides yet another avenue for our students to succeed."
"The Early Acceptance Program is a win-win for both the undergraduate school and LECOM," Dr. Ferretti said. "This gives the undergraduate school an additional tool to attract new students to pre-health degree programs. At LECOM, we know that the EAP students who matriculate from an affiliated undergraduate institution have received professional counseling and guidance, properly preparing them for the academic rigors of professional school while instilling in them a strong passion for improving healthcare."
Under the agreement, Fitchburg State students must apply for admission to LECOM programs either before matriculation or during their first two years on campus. Successful students will be given provisional acceptance to the program, and upon meeting final requirements will matriculate at the LECOM campus of their choice.
Fitchburg State Professor Mel Govindan, chairman of the University's Biology/Chemistry Department, advises dozens of students considering careers in health sciences, including physician assistant, pharmacy, allopathic medicine, osteopathic medicine, physical therapy and dentistry, among other tracks. The University has seen an increase in the number of graduates pursuing further education in these fields over the past 10 years, including two students currently accepted to LECOM.
Fitchburg State Dean of Health and Natural Sciences Margaret Hoey commended Govindan's work opening doors to professional programs like LECOM's. "This agreement allows us to take our commitment to the students to the next level," Hoey said.
Fitchburg State University graduates will be able to expedite their studies in several areas of osteopathic medicine as a result of a new Early Acceptance Program (EAP) agreement signed by Fitchburg State President Robert V. Antonucci and President John M. Ferretti, D.O. of the Lake Eric College of Osteopathic Medicine (LECOM) in Pennsylvania.