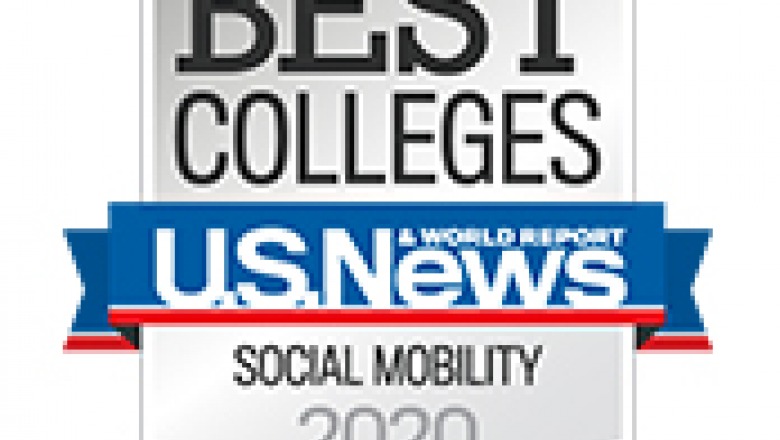 Fitchburg State graduates experience strong social mobility and get high returns on their educational investment, according to recent national studies.
The latest U.S. News & World Report college rankings examined, for the first time, social mobility. Because of its service to disadvantaged students, Fitchburg State was named a Top Performer on Social Mobility in the magazine's Best Colleges 2020 rankings. Fitchburg State was the highest-ranking public institution in Massachusetts relative to social mobility, according the magazine.
The issue reports that low-income students are less likely than others to finish college, even when controlling for other characteristics. But some colleges are more successful than others at advancing social mobility by enrolling and graduating large proportions of disadvantaged students awarded with Pell Grants. The vast majority of these federal grants are awarded to students whose adjusted gross family incomes are under $50,000.
That analysis is echoed in a newly-published report by the College Board. "Education Pays 2019: The Benefits of Higher Education for Individuals and Society" found that college education increases the chance that adults will move up the socioeconomic ladder and reduces the chance that adults will reply on public assistance. Among the report's conclusions:
Individuals with higher levels of education earn more and are more likely than others to be employed. Those with bachelor's degrees will earn $400,000 more over the course of their lifetimes than those with just high school diplomas.
College education increases the chance that adults will move up the socioeconomic ladder and reduces the chance that adults will rely on public assistance.
Median earnings increase with level of education.
Having a college degree is associated with a healthier lifestyle, potentially reducing health care costs. Adults with higher levels of education are more active citizens than others and are more involved in their children's activities.
Another recent analysis, created by Georgetown University's Center on Education and the Workforce, demonstrated a strong return on investment for Fitchburg State graduates. That study looked at federal data to estimate the "net present value" of a college education over time, and found Fitchburg State scored higher than most other public institutions in Massachusetts.
Fitchburg State Provost/Vice President for Academic Affairs Alberto J.F. Cardelle said the analyses reflect the university's commitment to quality pre-professional programs that are built upon solid liberal arts foundations.
"Our students graduate with skills for the job market as well as the critical thinking and 'soft' skills necessary to navigate their future years in the workforce," Cardelle said. "These reports show the long-term return on investment of higher education."
To read more, visit the U.S. News site, Georgetown's site, and the U.S. Department of Education's College Scorecard.