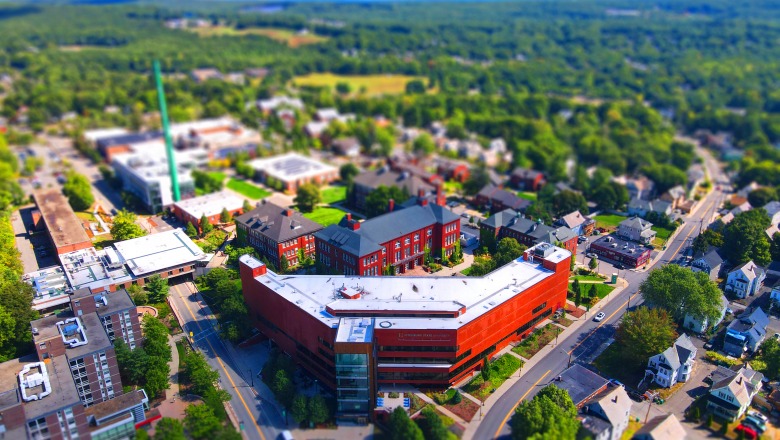 Fitchburg State University is ready to launch in-person for the fall semester, with safety protocols in place to create a robust experience for students and the community.
The majority of new resident students will move in Monday, Aug. 30 between 9 a.m. and 12 p.m. Move-in will start with registration at the Wallace Civic Center on John Fitch Highway, with vehicles then directed up North Street to the main campus. North Street between Pearl and Ross streets will be closed to traffic during the move-in on Monday, and portions of Highland Avenue and Cedar Street may be closed at times as well. Some temporary road closures may be instituted during early student move-in between 1 and 4 p.m. Sunday, Aug. 29.
Returning resident students move in Wednesday, Sept. 1, during which there may also be some road closures near campus. Fall semester classes begin Thursday, Sept. 2.
"We are excited to welcome our students, faculty and staff back to campus for a fully in-person experience," Fitchburg State President Richard S. Lapidus said. "I am proud of how all members of our community stepped up last year to keep students' academic goals on track, but we all look forward to the energy and enthusiasm that is generated by sharing space on the physical campus."
To promote a safe and healthy experience this year, and in consultation with public health officials, Fitchburg State has implemented a variety of protocols to guard against COVID-19, including a vaccination requirement for students living and studying on campus and a mask requirement for indoor spaces, including for campus visitors.
The university is also planning a robust year of public-facing programs and celebrations. Among the highlights early this semester:
The fourth cohort of officers will graduate from Fitchburg State's groundbreaking police program at 11 a.m. Friday, Sept. 10 at Weston Auditorium. The new officers, who will take their oaths at the ceremony, completed their bachelor's degrees in criminal justice in May and will begin their online master's degrees this fall. This summer they are completing a 17-week academy of defensive skills and tactical training, in addition to classroom work.

The university will observe Latinx/a/o Heritage Month from mid-September to mid-October with a series of exhibitions, community discussions and guest speakers. Details will be posted at fitchburgstate.edu.
The university is also launching several new academic programs with the new year, including a reimagined general education curriculum designed to prepare students with foundational critical thinking skills that will prepare them to be lifelong learners.
Beyond that new curriculum, the university is launching a new concentration in entrepreneurship along with several new tracks in its public health science programs. In addition, the university's School of Graduate, Online and Continuing Education is beginning several new certificate programs, including online education administration, special education director, special issues in counseling, and teaching English as a second language. The university will also debut a new minor in human service.
To learn more about Fitchburg State and its programs, visit fitchburgstate.edu.