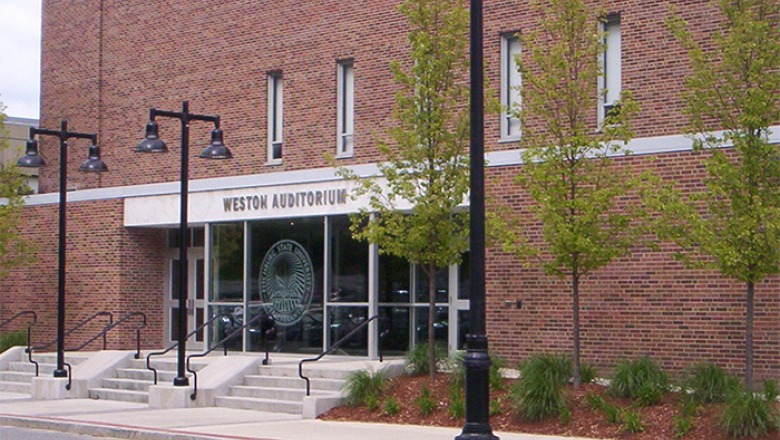 Fitchburg state University's musical ensembles will present their winter concerts in December. All are free and open to the public, but face coverings are required indoors on campus and guests will be asked to attest they are free of COVID-19 symptoms.
The Concert Band and Community Orchestra will perform at 7:30 p.m. Thursday, Dec. 2 in Weston Auditorium, 353 North St. The concert will feature a variety of music by a diverse representation of composers. The Concert Band will perform under the direction of Assistant Assistant Professor Amy McGlothlin of the Humanities Department, while the Community Orchestra will be led by Professor Hildy Schilling of the Psychological Science Department. Continuing a tradition begun four years ago, the concert will include a food drive to support the Falcon Bazaar, the university's on-campus resource for food and necessities for students. Concertgoers are encouraged to bring non-refrigerated, single-serve microwavable meals or cash donations to support the Falcon Bazaar.
The Modern and Jazz Band will present its winter concert at 7:30 p.m. Monday, Dec. 6 in Weston Auditorium. The performance will also be streamed live at https://youtu.be/0basZ_eRF28. The Fitchburg State University Modern and Jazz Band is a unique new ensemble on the campus that any student who plays an instrument may join. The ensemble's members pick their repertoire and compose their own arrangements to suit each player's skill level. The goal of the ensemble is to involve students who may not plan a traditional band instrument but would enjoy participating in a musical group.
The Concert Choir and Chamber Choir will present "Lead with Love" at 7:30 p.m. Tuesday, Dec. 7 at Weston Auditorium. Those unable to attend in person may watch the concert via livestream at https://youtu.be/_XGDtERjuSY. The concert will include pop music, spirituals, classical, protest music and show tunes, all about the power of love. There are pieces in Spanish, English, and Russian, and favorites like "Yesterday" by the Beatles, and "Carol of the Bells." The choral ensembles are led by Assistant Professor Jonathan Harvey of the Humanities Department.