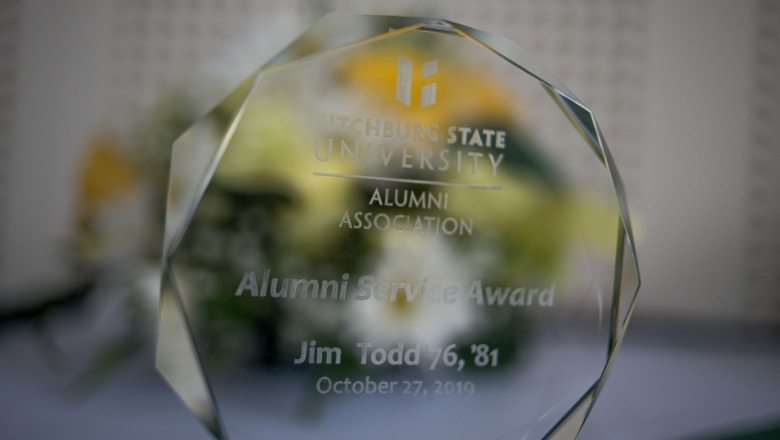 Fitchburg State recently recognized several deserving alumni for their accomplishments and outstanding contributions at its biennial Alumni Awards ceremony. The inductees of 2019 are: 
Jim Todd '76, '81
Alumni Service Award
Jim Todd began his career in physical education, starting with Billerica Public Schools then moving on to higher education. During that time he coached basketball, a year at the high school level and then two at his alma mater, when at 25 years old, he was named one of the youngest college head coaches in the country. Todd was then called to New York State where, as Assistant Coach at Columbia University, Marist College and Manhattan College, he oversaw recruiting and scouting efforts and planned the day-to-day operations of these programs.
In 1987, Todd returned to Massachusetts as Head Basketball Coach at Salem State University. Over his eight-year tenure, he led the team to nine MASCAC League Championships, one ECAC appearance and seven NCAA bids, including two Sweet Sixteen appearances. He was named the 1990 Kodak New England Coach of the Year and was inducted into Salem State's Hall of Fame in 1998, Fitchburg State's Hall of Fame in 2003, and the New England Basketball Hall of Fame in 2009. He also led the Salem State golf program to 3 straight NCAA appearances as their Head Golf Coach from 1994-1996.
His numerous basketball successes eventually brought Todd to the NBA, where he coached for the Milwaukee Bucks (1996-1998, 2002-2004, 2007-2008), Los Angeles Clippers (1998-2000), Toronto Raptors (2004-2007), Atlanta Hawks (2008-2010), Sacramento Kings (2011-2012), New York Knicks (2012-2014) and Minnesota Timberwolves (2016-2017). A number of these years he saw his teams to the NBA Playoffs. Todd also did a short stint with the Canadian Senior Men's National Basketball Team and the Zhejiang Cyclones of the Chinese Basketball Association.
In addition to his basketball records, Todd is today's Alumni Service Award recipient for his tireless efforts to boost Fitchburg State's Men's Basketball program since 2017. His support of the Alumni Association has resulted in the reengagement of a large group of men's basketball alumni, reconnecting them to their alma mater through annual reunions and golf tournaments. Todd was also inspired to spearhead an effort to raise money for the program with the end goal of one day creating a large enough endowment to support a full-time coach's salary. In the three years since, he has successfully raised over $100,000 toward this goal, building up a team of people to support this endowment. He has used his relationships with other alumni and tapped into his personal and professional base of contacts to create a pool of supporters who are committed to not only donating themselves, but reaching out to their own spheres of influence to help raise funds.
Todd is now semi-retired from the NBA and jokes that his new full-time job is working for Fitchburg State. He is passionate about his alma mater and is committed to giving our Falcons men's basketball players the best college experience possible.
Judith A. Dumont '86
Alumni Leadership Award
After completing her education at Fitchburg State (BS Business) and Boston University (MS Management Information Systems) Judith A. Dumont spent 18 years at Lightbridge, a decisioning software provider for the wireless telecom industry. She helped grow the company's revenue from $0 to over $175 million and rose to the level of president of the largest business unit.
From 2009-2013, Dumont was the director of the Mass Broadband Institute (MBI) under the Gov. Deval Patrick Administration. During her tenure, MBI built a 1,200-mile fiber-optic broadband network in central and western Massachusetts (including Fitchburg) connecting hundreds of schools, libraries and public safety facilities. They also partnered with the Massachusetts Department of Veteran Services to build Mass Vets Advisor, an online tool to help veterans find the benefits to which they are entitled. In 2012, the MBI was named the Broadband Organization of the Year by the National Association of Telecommunications Officers and Advisors.  In 2013, Dumont received the Secretary of Defense Employer Support Freedom Award and was named to the Fierce Telecom "Women in Wireline 2013" list of top telecom executives.
More recently, Dumont has built and managed professional services organizations for a small health-information technology company and for PTC, a $1 billion global industrial innovation solution provider. She prides herself on building and transforming high performing teams that meet or exceed the company's objectives.
Since 2001, Dumont has also been a member of The Boston Club, an executive women's organization with a mission to promote and elevate women to leadership positions.
The Honorable Robert S. Hargraves '60
Alumni Achievement Award
Robert S. Hargraves grew up in Ashby in the family's 1740s homestead where he helped his father with farming chores during WWII and throughout his high school career. He began his studies at Fitchburg State before transferring to the University of Maine at Orono where he graduated with the class of 1958 with a degree in math education. He later returned to Fitchburg State to earn his M.Ed. in Education in 1960. His thirst for learning continued through five National Science Foundation fellowships in mathematics, including two each at Oberlin College and the College of the Holy Cross, and one from Boston University where he later received a Certificate of Advanced Graduate Studies in administration in 1968.
Throughout these fellowships, Hargraves served in his first two teaching positions at Groton High School and Swampscott High School. He then served as principal at North Middlesex Regional High School in Townsend for 10 years, followed by Mahar Regional High School in Athol for 11 years, and Athol Middle School for three years.
During his administrative career, Hargraves also served on the Board of Selectmen in Groton for many years. In 1995 he was elected to represent the First Middlesex District in the Massachusetts House of Representatives, where he remained until his retirement in 2011. He served with four speakers, including Charles Flaherty, Tom Finneran, Sal DiMasi, and Robert DeLeo, and five governors, including William Weld, Paul Celucci, Jane Swift, Mitt Romney, and Deval Patrick. Hargraves sponsored legislation on matters including Lyme Disease and cyberterrorism. He was also a member of the Ways and Means Committee. In Groton, he served on the town's Finance Committee for six years following retirement from the Legislature.
Hargraves's significant contribution to the Commonwealth of Massachusetts and to the town of Groton, where he has resided for over 50 years, is unquestionable. As such, the Town of Groton declared May 1, 2017 as Robert S. Hargraves Day in honor of his decades of public service.
Now retired from politics, Hargraves enjoys antique automobiles and spending time with his wife, Ellen, his three children and nine grandchildren.