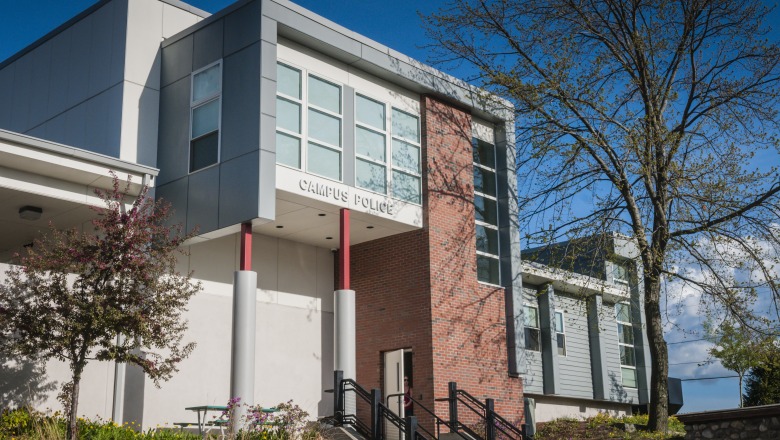 Fitchburg State University President Robert V. Antonucci has appointed Lt. Benjamin McDonald as interim chief.
"Mike Marcil was a loyal, hard-working member of the Fitchburg State community, and our thoughts and prayers are with his family at this difficult time," Antonucci said. "His dedication to his family and his profession will never be forgotten."
Michael was born in Fitchburg on January 2, 1962 to Joan and the late Lawrence Marcil. Michael loved the City of Fitchburg and he was proud to be a native son. Michael grew up on Mt. Vernon Street where he had so many wonderful memories of his times with the Jackson and Gould families. They were a very special extension of his own family. He also cherished the memories he made with his cousins, Kevin and Steven: closest to his age he had built in best friends and many family events consisted of them regaling stories of their shenanigans.
When Michael graduated High School he began to work for Adams Russell Cable in Leominster, but his heart was in serving the community that he loved. And so he embarked on a Law Enforcement career that spanned over 30 years. He worked first as an auxiliary police officer for the City of Fitchburg. He often spoke of the many, many mentors he had on the force: many of them became lifelong friends. He had a special relationship with his cousin, Detective Sgt. Ernie Martineau of the Fitchburg Police. Michael was so proud to call him family.
In 1987, Michael joined the Fitchburg State University Police Department as a patrolman working 11-7. Those were changing times for the department and Michael was ALWAYS instrumental in moving the department forward. He loved working for the University. Right in the heart of Fitchburg, he felt that he was serving the community that he loved in a special way. While at Fitchburg State University, Michael saw a lot of officers come and go on their way to their dreams. Michael's dreams were for them and he was always available to offer advice and encouragement. If Michael knew you, then you were his lifelong friend. While at Fitchburg State, Michael worked part time for Lunenburg Police Department. This gave him the opportunity to work alongside his childhood friends, the Gould brothers. Michael gained valuable knowledge and job experience while working in Lunenburg: every day was a learning opportunity and these experiences helped make him a seasoned officer.
Michael was appointed the first sergeant ever in Fitchburg State University history in 1998. He made Lieutenant in 2000, always working the overnight shifts. Michael became acting Chief in December of 2013, where had hoped to make a lasting impression on the department. He always wanted to do what was right and just for those he worked with; they were his brothers! Michael received many awards and commendations while at Fitchburg State, including a city wide award for bravery in the Green Street Fire Christmas Eve 1987. While on routine patrol, Michael spotted a house fire. Michael worked tirelessly to rescue the occupants of the building putting his own life at risk.
As much as Michael loved his job, Michael loved his family. Michael met and married the love of his life on April 19, 1986. He would delight in whispering "sweet nothings" in Lucy's ear just to see her blush. He would tell her each and every day that she was "his whole life." In that same year, he welcomed the apple of his eye Megan, followed by his little "da" Amanda then his "best friend" his son Matthew. For as big as Michael was, his love for his wife and children was bigger. There was NOTHING Michael would not do for them: working two jobs, sacrificing himself for them and always, always encouraging them to follow their dreams. Michael believed that all his children could move mountains and "were the smartest people he knew." He was fortunate enough to see them pick life partners whom he came to call sons and daughter: Dennis, John and "Little" Alysha. He was so looking forward to being a Nonno in July to twin grandchildren. Michael had a VERY special affection for his niece Samantha and his nephew Ian, they were always in his heart.
Michael was a late in life Catholic. Having been baptized as a child, Michael found his faith again. He was confirmed at the Easter Vigil mass in 2000 at St. Boniface Church in Lunenburg. He loved his church and church family: they were important to him especially the bond he formed with Sam Ramondelli, Brian Lajiness, Laurie Montouri, Ron Grautski and Mike Ussery. They were part of the special club of ushers where each Sunday they would pray for divine intervention for the Patriots. Until this day, they feel they singlehandedly constructed the Super Bowl team of 2003. He was devoted servant to the Church as a Eucharistic minister and helper to Fr. Ed Niccolls and Fr. John Dwyer. Michael was devoted to serving the church and he LOVED Sunday mass with his family followed by football and family dinners.
Michael is survived by three brothers, Brian and Lawrence of Fitchburg and his little brother Darren whom he was so proud of. Following Michael into the Law Enforcement community, Michael always felt a special bond with him. Michael has one sister, Brenda, who is a dedicated care giver to Michael's mother and brother Brian. He also leaves many behind many brothers and sisters in the Bisol family, along with numerous nieces, nephews and great-nieces and nephews. He was predeceased by his sisters, Susan Partlow and Michelle Marcil, his father Lawrence Marcil and his favorite sister-in-law Christina Kelley.
The funeral will be held from the Brandon Funeral Home, 305 Wanoosnoc Road, Fitchburg, on Saturday, Feb. 1, 2014 with a Mass in Saint Boniface Church, 817 Mass Ave., Lunenburg at 10 a.m. Calling hours will be held from 3 to 7 p.m. on Friday, Jan. 31 in the funeral home.
In lieu of flowers, the family request donations to set up a scholarship for young men and women entering the Criminal Justice field at Fitchburg State University.
The Fitchburg State University community is mourning the passing of Interim Campus Police Chief Michael Marcil, 52, who died suddenly Saturday at his home. His distinguished career at Fitchburg State spanned nearly 30 years, culminating in his appointment last month as acting police chief upon the retirement of Chief James Hamel.