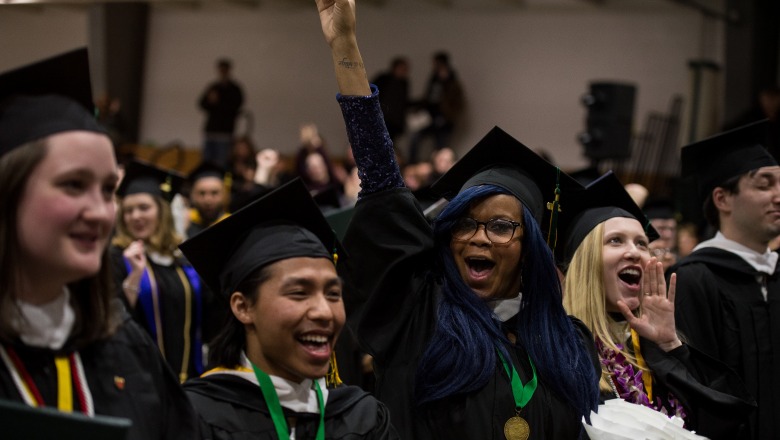 View a photo gallery on our Facebook page.
Attending graduates, including those who had completed their studies online and never before set foot on the university's physical campus, hailed from Massachusetts as well as Arizona, California, Connecticut, Florida, Kansas, Michigan, New Hampshire, New Jersey, New York, Ohio, Pennsylvania, Rhode Island, South Carolina, Tennessee, Texas, Vermont, Wisconsin and the Northern Mariana Islands. The university has seen huge growth in its online accelerated degree programs.
President Richard S. Lapidus highlighted three of the graduating students in his address, who embodied the university's core values including perseverance and dedication.
Jessica Shea of Fitchburg, who works in the university's Expanding Horizons Program, serving a population of first-generation students with learning disabilities or other challenges. She found the post when she was in search of a job, but instead discovered a passion. Shea completed a Master of Education in Curriculum and Teaching.
Anna Farnsworth of Shrewsbury, who took her first college course in 1982 before a long hiatus. In 1997, on the eve of a divorce and in need of additional career skills, she began her studies anew, balancing one course at a time with the demands of raising her children. Over the course of more than 20 years, Farnsworth built a career as a graphic designer and physical trainer while supporting her children through their own educational paths. Decades after beginning her degree, she crossed the stage to collect her undergraduate degree in business administration, with her sons and granddaughter in the audience.
Kirsten Perham of Clinton is a survivor. When her first attempt at college was not successful, she decided to follow in her grandfather's footsteps and joined the military, only to be medically discharged when a training accident broke both of her hips. She returned to college but struggled again, realizing her hardships were rooted in unresolved trauma from a previous sexual assault. With the support of faculty and counseling, she endured, rebounding academically to the dean's list, and now committed to inspiring others to know that facing and overcoming challenges make us stronger. She completed an undergraduate degree in psychology.
Also recognized at the ceremony was valedictorian Nicholas Powell of Gardner, who completed a degree in English Studies with a concentration in professional writing. Powell likened the graduates to the rare blossoms of cacti.
"For some of you, this is the moment you bloom and your little cacti mind finally comes together," he said. "For others, this is just another stepping stone. For the rest, they fire in all directions and hope for the best. To me, the beauty of your cacti blooming - of watching everything you've learned finally come together, to me, is the feeling I chase every time I wake up, and I hope that maybe I've convinced you to do the same - even if it may take a lot of work to get there."
The Graduate Student Leadership Award was presented to Eman Warraich-Gibson of New Jersey, who completed an MBA. Gibson works at the substance use treatment organization Integrity House in New Jersey, where her duties have expanded to include administrative and leadership roles starting in 2013 and she is now involved in strategic planning, oversight, finance, and human resource and development. Gibson completed the university's accelerated online MBA in nine months.
"Like many of my fellow graduates, getting here tonight required some sacrifice," Gibson said. "My homework often kept me away from my family, even when I was in the house, and I missed other family birthday celebrations. Still, the experience has been rewarding. As a direct result of my participation in the MBA program, I was recently appointed Chief Clinical Officer at my organization, overseeing all 18 of our treatment programs, and with responsibilities that stretch from client care to financial sustainability. The knowledge I gained from the faculty and my classmates is immeasurable and most applicable to the real world."
More than 600 undergraduate and graduate degrees were conferred at Fitchburg State University's 123rd commencement exercises, winter ceremony, on Friday, Dec. 20.