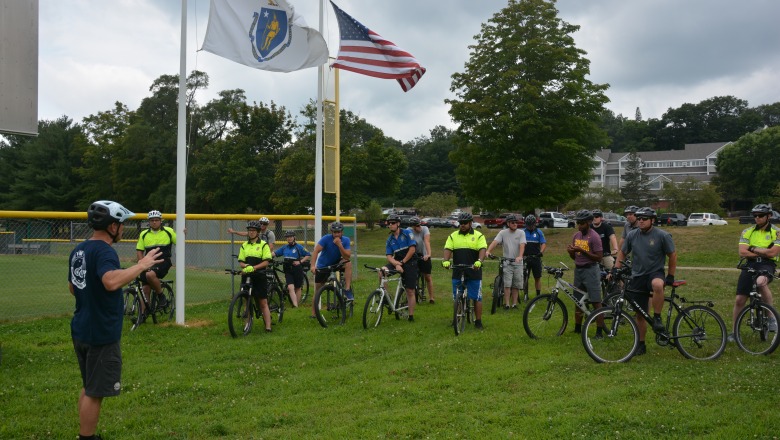 Fitchburg State University will welcome police officers from across Massachusetts for its police mountain bicycle training course Wednesday, Aug. 4 through Friday, Aug. 6. The course, first offered in 2017, is co-sponsored by the Fitchburg State Center for Professional Studies and its campus police department.
Upon completing the three-day course, the officers will be able to properly control the bicycle within a high volume pedestrian area as well as riding on the street off road. The course is designed to offer students a better understanding of the utilization of the mountain bike for community policing, bicycle patrol procedures, the equipment needed for patrol, and the confidence that they can perform their duties as police officers in a professional and safe manner on a bicycle. The course includes a classroom component but the majority of the time is spent on the bike.
The primary instructor for the course is Medway Police Sgt. Jeffrey Watson, who has been teaching police mountain bike training for more than 20 years. Municipal and campus police departments from across Massachusetts have taken part in the program at Fitchburg State.
"Police mountain bikes are great for community policing," said Sgt. Watson. "It truly handles the fears and concerns of citizens. This is just another aspect of police reform and training. We can be out there, one-on-one with the citizens in a way you can't in a patrol car. In today's environment, it's what we need."
This year alone, Sgt. Watson has trained 150 officers for police mountain biking.
To learn more about the training or to register, please visit https://www.fitchburgstate.edu/academics/continuing-education/center-professional-studies/police-mountain-bike-training-pmbt. The deadline to register is Wednesday, July 21.