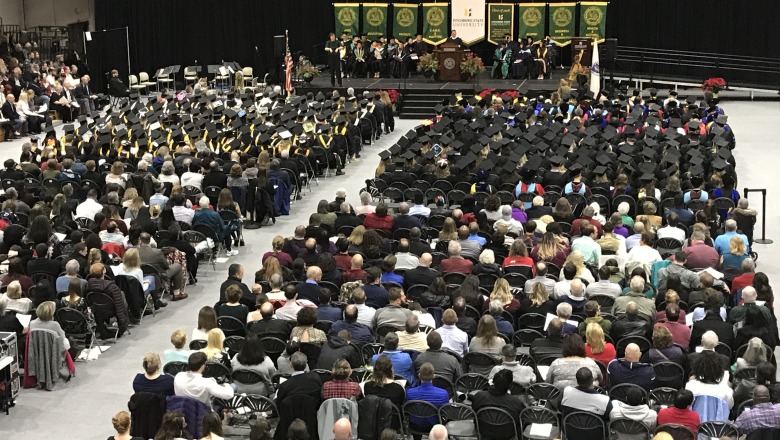 Graduate and undergraduate degrees were conferred for students who spanned the United States and across the globe.
Quinn E. Staley of West Wareham, who completed a degree in communications media, delivered the valedictory address, while Carolyn Perla of Leominster, completing a Master of Business Administration degree, spoke as the recipient of the Graduate Student Leadership Award.
In his commencement address, University President Richard S. Lapidus saluted the graduates on their achievements, singling out three students who embody the institutional spirit.
Kristin L. King of Fitchburg, who enlisted in the Army at age 17 and came to Fitchburg State after serving overseas. To help build a network of support for others like her, she served as president of the Student Veterans Organization and oversaw the creation of a veterans center on campus. She graduated with a bachelor's degree in early childhood education.
Priyanka Khadka of Belmont, who left behind her husband and family in Nepal to pursue her educational goals in the U.S. Having worked as a nurse in Nepal, she tutored nursing students at Fitchburg State as she pursued the MBA degree that she completed this semester. She hopes to continue her schooling in nursing in the U.S. and hopes to be reunited with her husband, who thus far hasn't been able to come to this country because of immigration issues.
Beatrice M. Kaywiga of Fitchburg, who in her native Uganda worked with Christian organizations to help hundreds of children whose lives had been disrupted by war. Once she emigrated to the U.S., she worked as a home health aide and volunteered in hospice care, motivated by the joy she took in meeting people and hearing their stories. She graduated with a degree in human services and has already been hired to work full-time in home care.
The ceremony can be viewed online via Fitchburg Access Television.
Fitchburg State University held its 122nd commencement exercises, winter ceremony on Friday, Dec. 21.