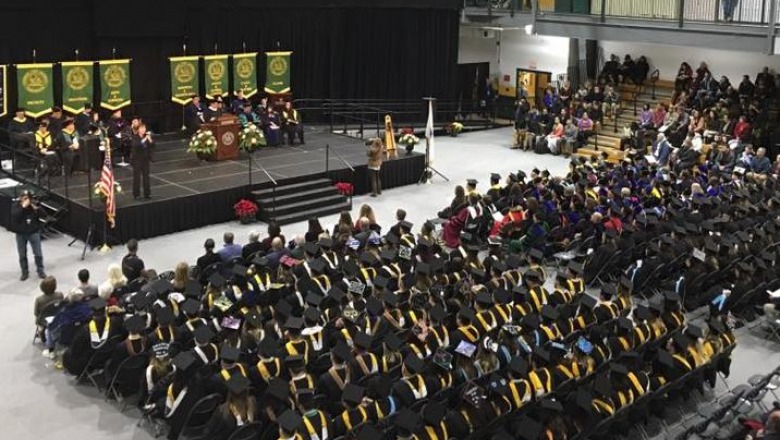 University President Richard S. Lapidus delivered the commencement address, in which he highlighted members of the graduating class, including:
Souleymane Wane of Lowell, a native of Senegal who played on the University of Connecticut's 1999 championship winning basketball team and now teaches French at Haverhill High School. He earned his Master of Education in curriculum and teaching.
A cohort of teachers from Martha's Vineyard, who sought to advance their educations as a group. Using on-island educational experts and Fitchburg State faculty as instructors, they experienced a unique hybrid-model that blended face-to-face and online learning.
Claire Cabanillas of Fitchburg, who waited until retirement to complete her academic studies and walked across the stage just weeks after her 76th birthday with a degree in interdisciplinary studies.
The ceremony also included the recognition of Alexander Steacy of Worcester as the undergraduate valedictorian. Steacy earned a perfect 4.0 grade point average studying biology with a concentration in health sciences.
Also honored was Ranee Maree Wright of Appleton, Wis., who received the Graduate Student Leadership Award in recognition of her work toward her Master of Science in Forensic Nursing. Wright works as a forensic nurse examiner in her home state.
In all, the University conferred nearly 400 undergraduate and graduate degrees this December.
The ceremony was streamed live on Fitchburg Access Television and will be available for viewing on demand on their website.
View an online gallery of photos from the celebration on our Facebook page.
Fitchburg State University recently held its 121st commencement exercises, winter ceremony.