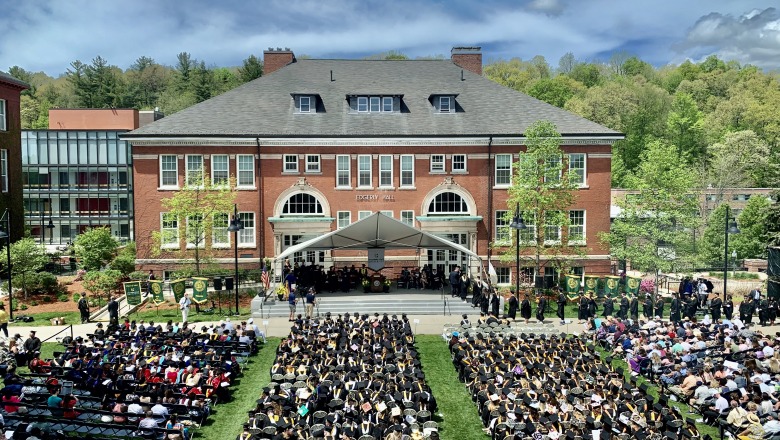 View scenes from the Undergraduate Ceremony on the Burg Blog.
Fitchburg State University celebrated the spring ceremonies of its 126th commencement exercises in May, awarding baccalaureate and master's degrees to students hailing from across the country and the world.
At the undergraduate ceremony on Saturday, May 14, Dr. Rosaline Cardarelli from Fitchburg State's class of 1981 delivered the keynote address.
Cardarelli is the founder and chief executive officer of the Education for All Coalition, Inc., a humanitarian organization dedicated to creating and bridging educational opportunities for youth through education services for displaced children affected by forced migration around the world.
Her charitable work bridges the education gap to support displaced refugee and migrant children and underserved communities around the globe. Her efforts support two main goals: improving access to education and educational resources and developing community efforts that foster wellbeing in the youth generation, with social justice, inclusion and equity in mind.
"Remember, you have choices and the actions you take along the way to your destiny will be your legacy," Cardarelli said. "While new opportunities accompany the degree you are about to receive, I would ask you to pause and reflect as this new journey begins on how you define your values, and how you will serve."
She also shared some life lessons:
Never lose your curiosity about the world and nurture a passion to keep learning 
Never underestimate the positive impact or difference you can make in someone else's life with small gestures of kindness
Always pay it forward through mentoring others that follow you – this investment will come back to you 
Always be courageous – stand up for what you believe in and ask to be included
Always think locally and tactically, as well as globally and strategically – the world has gotten smaller 
Always be resilient and agile: the world will continue to change at a rapid pace
Always use your personal disappointments to your benefit, to be your best the next time around
Remember that opportunities can be endless, but be filled with gratitude
Remember you will be judged by your character, and your actions, decisions and choices made today will have an impact on the rest of your life 
And be sure in some way, at every opportunity, to be of service to others, and to give back to something greater than self
"Remember, you have the power to change this world through your actions and service – use that power thoughtfully, with kindness, and to the fullest of your abilities," said Cardarelli, who was also awarded the President's Medal in recognition of her career and service.
The valedictorian of the undergraduate class was Sebastian D. Goyette-Connerty of Ashby, completing a degree in computer science, and who graduated in just three years with a near-perfect grade point average. 
"Because of certain restrictions being lifted in the past year, our class has been through every imaginable stage of a 'pandemic college experience,'" Goyette-Connerty said. "Many of us started our education at Fitchburg State in person some years ago going to class with friends and enjoying campus as normal, only to have our way of learning be flipped upside down with fully remote classes. Learning was different, teaching was different, and life was different. In the wake of the pandemic, we have now gotten to experience the rebuilding of something that is supposed to resemble normalcy."
Many may have questioned whether to continue under those terms, he said, but the graduates gathered Saturday endured.
"For those of you who faced hardships and found yourself burdened by responsibilities on top of your education, I'm right there with you, as are your fellow graduates and loved ones," Goyette-Connerty said. "I see in the crowd today people that managed to continue on the path to a brighter future, and I encourage you all to continue to use your strength and resilience to create new ideas and better yourself and your community."
Also honored during the undergraduate ceremony was Donald R. Irving, who earned degrees from Fitchburg State University in 1972 and 1979, and taught for several years before embarking on a successful career in business. 
In addition to service on the university's Board of Trustees and the state Board of Higher Education, Irving and his wife, Karen, started the Pay It Forward Scholarship program in 2012 that has helped dozens of students pursue their ambitions.
Irving noted the technological advances that have transformed the educational experience since he began his own college career in the late 1960s, but said the important role that passion and direction will play in graduates' future success has not changed.
"With the degree you have earned here today and the tools you have available, every one of you has the ability to accomplish things we couldn't even dream about," he said. "All you need is passion and direction. I think it is important to have both of these elements. If you have passion without direction, you will probably wander. If you have direction without passion, you will probably become bored. If, however, you can find a passion and harness it with direction, you can have an incredible life."
On Thursday, May 12, the university awarded master's degrees to graduate students from 30 states and eight countries. The Graduate Student Leadership Award was presented to Jennifer C. Belfield of Leominster, who completed a Master of Science degree in computer science, and who will start a doctoral program at Worcester Polytechnic Institute this fall. In her remarks, Belfield said she appreciated the community energy at Fitchburg State.
"I love how here, at Fitchburg State, students help each other learn," she said. "Experiencing this has been so inspiring. Learning here at Fitchburg State University has always been a two-way street. Even when I was the one to help a class-mate learn something, I ended up learning something from them. 
"When I still feel scared sometimes by the thought of what I haven't learned in school yet, I have courage when I remember where my journey has brought me, and my confidence returns, reminding me that I can still go much further," Belfield continued. "I'm so grateful for my education and the encouragement I receive as I walk towards my dreams and ambitions."