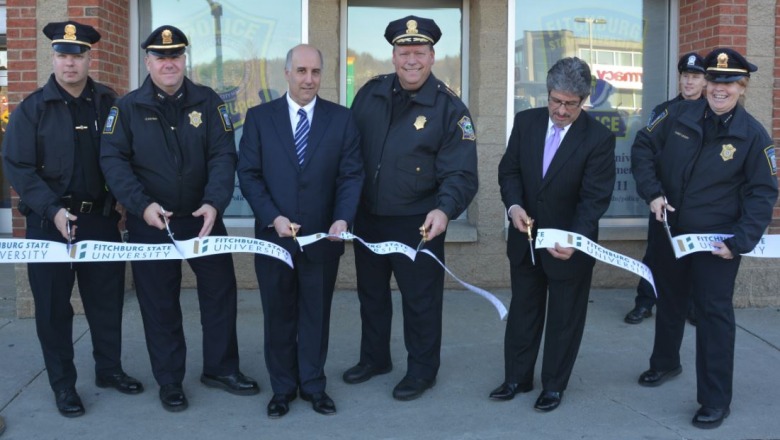 The center is located in the West Building of the intermodal center at 150 Main St. among a suite of university offices.
"This space will benefit the Fitchburg State campus as well as our neighbors in the city," University President Richard S. Lapidus said. "It is a fitting demonstration of the productive collaboration between our Campus Police and the Fitchburg Police Department. Working together, our entire community grows stronger."
"This center is the result of a strong collaboration between the University and the city," Fitchburg Police Chief Ernest F. Martineau said. "Its location demonstrates our continued effort to make Main Street in downtown Fitchburg a place people want to be. This space will show the Fitchburg State community and other city residents that we are committed to the lower Main Street initiative. And while the signs in the windows reflect law enforcement, the real purpose of this space is community engagement. The possibilities are endless."
Chief Martineau added the productive relationship between his department and the University Police has grown dramatically in recent years. "It's never been like this before," he said. "We're partners in this. This collaboration can only be good for the city."
State Rep. and Mayor-Elect Stephen DiNatale also attended the dedication ceremony.
"This is just one more demonstration of the partnership between the city and the University," he said. "I'm happy to see this happening I support it whole-heartedly."
The Fitchburg Police Department will be hosting a coat drive at the center on Saturday, Dec. 19 from 10 a.m. to 2 p.m., where they will collect men's and women's winter coats, fleece shirts, hats, gloves, boots and other winter gear. Fitchburg Public Schools Superintendent also announced the medication collection drive during those same hours.
"This is a good time to look in your medicine cabinets to see what you want to dispose of to make your home safer," said Ravenelle. Parents of public school students will be getting letters this week informing them of the medication drive.
The outreach center will be staffed at various times by members of both police departments. Among other planned activities for the site will be community education programming such as car seat fittings and CPR training for babysitters and first responders, as well as an area for residents to meet with officers.
Continuing efforts to link the Fitchburg State campus with its host city, the University's Police force and the Fitchburg Police Department have opened a shared community outreach center at the intermodal transportation center on Main Street.