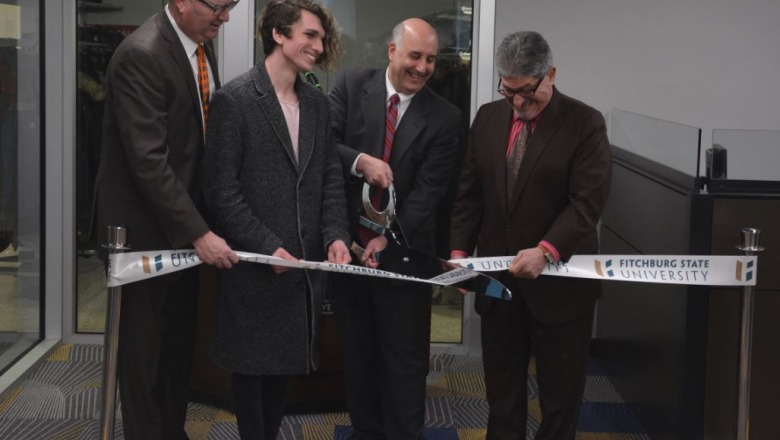 Fitchburg State University's transformation of the Theater Block on Main Street marked another milestone with the ribbon-cutting ceremony for the ideaLab and game design studio.
President Lapidus was joined by local and state officials for the official dedication of the space, which was followed by an open house that drew a large crowd of campus and community members to see the first phase of the project for themselves.
The university purchased the theater block in 2016. The first phase of renovations includes the interdisciplinary ideaLab as well as a state of the art game design studio, where 22 students will complete their semester-long capstone courses this spring. Fitchburg State is the only public institution with a game design program in Massachusetts.
 "What a transformation," President Lapidus told guests at the open house, describing the ideaLab as a space for diverse audiences to gather and look at problems, share ideas and pursue their dreams. "Different people look at problems through different lenses, and will come up with different solutions."
Fitchburg Mayor Stephen L. DiNatale said the theater block project embodies the collaborative spirit that will be key to reviving the downtown corridor. "Fitchburg does collaboration better than any city I've encountered," he said. "We couldn't be happier with the collaboration with Fitchburg State University as a partner."
State Rep. Stephan Hay described the "spectacular" growth Fitchburg State has experienced, citing the expansion into the heart of downtown Fitchburg as an example of the energy and enthusiasm he has seen. "I can't wait to read in the New York Times or Time magazine that some idea that changes our lives was germinated at the Fitchburg State ideaLab."
Jules Stackhouse '19, a senior studying game design at Fitchburg State, said the studio facilities are unmatched. "Every day I'm so excited to be in the game design lab," he said. "I hope at the end of this semester we can show you tremendous projects."
President Lapidus also saluted Professor Jeffrey Warmouth and Professor Jon Amakawa from the game design program for their leadership in the program. For the game design studio capstone course, the students will be working exclusively on Main Street while maintaining contact with the faculty. The course is designed to function as a real game studio, where students will be creating and prototyping games throughout the semester.