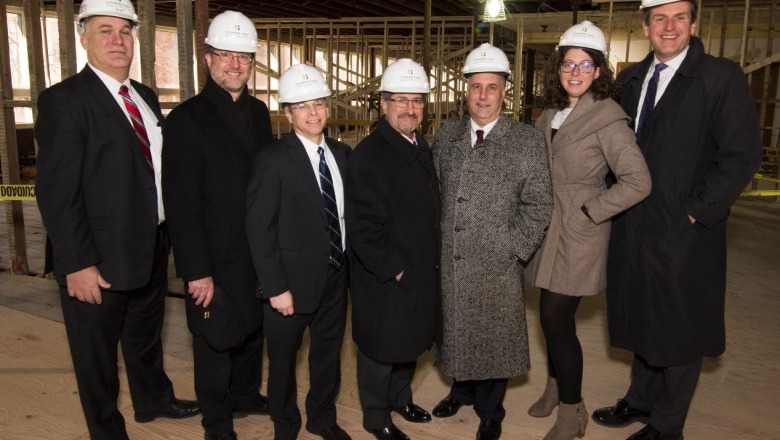 "What Fitchburg State is creating is remarkable," Ash said. "We want to help you create what is a transformative project in the downtown."
"I do think we have something special going on here," Fitchburg State President Richard S. Lapidus said. "The University has done its part in contributing to the betterment of the city, and we're going to continue doing that."
State and local political and economic development leaders took part in the discussion this morning that described the University's partnership with NewVue Communities to create an interdisciplinary learning space that will benefit students and community members.
Fitchburg State purchased the long-vacant theater block at 717 Main St. in 2016 and has embarked on a multi-phase, multimillion-dollar renovation project. The first phase, known as the ideaLab, comprises nearly 7,000 square feet on the second floor of the complex.
Secretary Ash said he sensed passion for the project in the group assembled on Wednesday morning.
"We especially like to go to places that get it," Ash said. "We're focused on prioritizing transformative development. There's so much that's aligning right here."
NewVue Communities Executive Director Marc Dohan said the ideaLab will bring prospective entrepreneurs together with expertise from his organization and the University.
"It's taking people who have a dream and helping them realize it," said Dohan, who praised Fitchburg State leaders for taking the initiative on the theater project. "You looked at this building and you took a chance on it. It makes a difference to see this not as a liability but an asset."
When completed this summer, the ideaLab will include the interdisciplinary entrepreneurship space as well as a state of the art game design studio for students in that university program.
Future phases include the renovation of retail storefronts on the first floor of the complex, and ultimately the vacant theater itself.
President Lapidus said the University had been looking to open doors between the city and the campus, and the downtown space created a singular opportunity to do so.
Fitchburg Mayor Stephen DiNatale saluted the collaboration between Fitchburg State, local and regional economic development agencies and community partners like the Fitchburg Art Museum. He said long-planned projects including the theater redevelopment, the conversion of the nearby former B.F. Brown School into artist live-work space and the renovation of Fitchburg City Hall will create synergy downtown.
"Two or three years from now, you're not going to recognize it," he said. The theater space "was vacant for 30 years. Enough already. Let's go."
Massachusetts Secretary of Housing and Economic Development Jay Ash toured Fitchburg State University's Main Street theater project on Wednesday, Jan. 31, touting the redevelopment's transformative potential for the region.