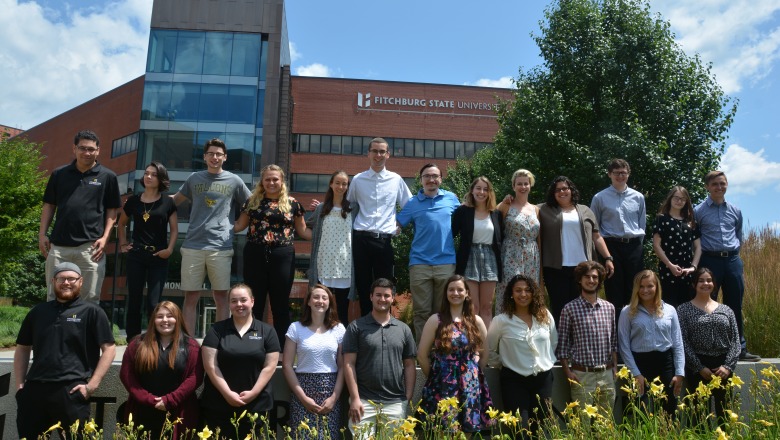 The project was funded in part by the Lloyd G. Balfour Foundation, Bank of America, N.A., Trustee, Community Foundation of North Central Massachusetts, Avantor Sciences Foundation, and Fitchburg State University.
The students were paid for their work and supervised by faculty members from the departments of Biology & Chemistry, Business Administration, Communications Media, Earth and Geographic Sciences, Exercise and Sports Science, and Nursing. This was the third year of the summer research collaborative, and arrived as Fitchburg State prepared to launch its new major in environmental public health with the fall semester. It is the first public institution in New England to offer the major.
Oliver Titus '20, with a double major in mathematics and economics, looked at contaminants in the Nashua River watershed. "It was a great opportunity," he said after his presentation. "I learned what it was like to do real research, and this will help me as I'm applying to graduate schools in the fall."
Maeve Ahern '20, majoring in environmental science with a minor in biology, said the experience has made her consider continuing her education beyond her bachelor's degree. "This is something I never would have had the experience to try," she said, describing her project on microplastics in the Nashua River. "This has flung the door wide open."
Teigan Weissman '21, majoring in environmental and earth science with a minor in biology, looked at the hydrogeomorphology of microplastics in the Nashua. "The summer research project was a perfect opportunity to get hands-on experience and apply some of the knowledge I took from my classes," Weissman said.
The summer research students employed a variety of qualitative and quantitative methods to document the health of the local community, assessing levels of physical activity among different ethnic groups, for example, as well as exploring workplace wellness programs offered by local employers. Students conducted interviews as well as had subjects wear devices to record their movements over time, allowing the researchers to see the difference between self-reported activity levels and reality.
Other student teams looked at pollution in the Nashua River watershed and the effects of urbanization and microplastics on the health of the river and its tributaries, as well as conducted mathematical and computerized flood simulations of the area.
While students cautioned that small sample sizes made it difficult to draw sweeping conclusions about the topics under review, they nonetheless valued the experience of designing and implementing practical research projects, supported by reviews of scientific literature. The students also articulated how their research could be scaled up for future iterations of the project.
Several alumni from past years of the summer research collaborative returned to see this year's presentations, and described how their personal and academic journeys were influenced by their own experiences in the program.
Samuel Gallagher '19, who studied geographic information systems at Fitchburg State, now works for the Department of Agriculture in Northboro as a GIS technician. "This project paved the way for me to go forward and work on research," he said. "I ended up getting my job over someone with a master's degree because I had this hands-on experience."
Samantha Richard '19 is now working for the Blue Hills Weather Observatory in Milton. "I wouldn't be where I am today without the experience of last summer," she told the students. "It really pushed me to be more confident in myself. Once I got hands-on experience with the research I did with my fellow students, I started to grasp the importance of the topic and pushed myself further."
The Health of Fitchburg Communities project was supervised by faculty members Deborah Benes (Nursing), Carolyn Gustason (Nursing), Viera Lorencova (Communications Media), Monica Maldari (Exercise and Sports Science), Renee Scapparone (Business Administration), J.J. Sylvia (Communications Media) and Danielle Wigmore (Exercise and Sports Science).
The Health of the Nashua River Watershed project was supervised by faculty members Elyse Clark (Earth and Geographic Sciences), Emma Downs (Biology & Chemistry), Elizabeth Gordon (Earth and Geographic Sciences), Jane Huang (Earth and Geographic Sciences), Benjamin Levy (Mathematics), John Ludlam (Biology & Chemistry) and Daniel Welsh (Biology & Chemistry).
This summer, 22 Fitchburg State students worked under the auspices of faculty from a variety of disciplines on practical research projects concerning the public health of the Fitchburg community and the environmental health of the Nashua River watershed. Their nine weeks of effort culminated in public presentations in the Falcon Hub.