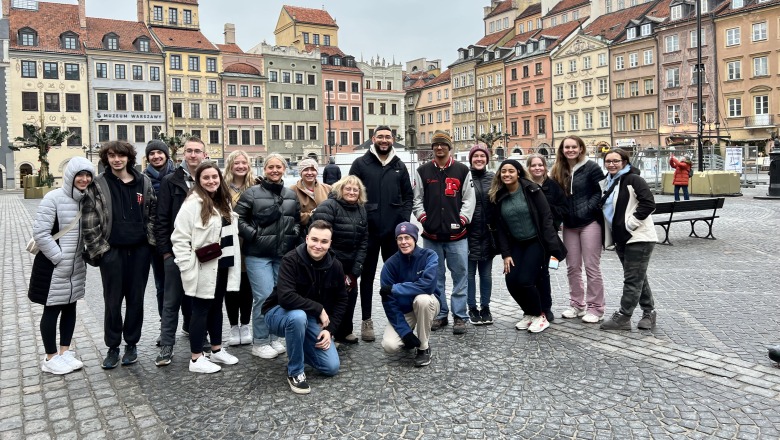 Fitchburg State University students and staff who traveled on the "Heart of Europe" journey this Spring will share their experiences and lessons learned about contemporary international relations in an open discussion at 7 p.m. Wednesday, May 3.
The presentation will be held in the Miller Oval in Miller Hall, 230 Highland Ave. Admission is free and open to the campus community and wider public.
"Teaching our students in my Europe Today course about recent European history and powerful international events unfolding in the heart of Europe provides them not only with the wonderful educational preparation to visit The Netherlands, Germany, and Poland, but also transformative experiences influencing their lives and careers," said Dr. Joshua Spero, an international relations professor in the university's Economics, History and Political Science Department. 
In early April, "Heart of Europe" students shared their trip's experiences and its impact on their lives as part of the Forbush Memorial Library in Westminster's "Great Decisions Series," an important opportunity to talk with the community about the challenges for a rapidly changing Europe and their thoughts regarding the US-transatlantic relationship and Europe's future. 
Spero has taught the Heart of Europe course for several years, and the voyage planned for 2025 will mark its sixth iteration. Students in the course examine major themes in contemporary European history, politics and economics before traveling to see some of the most significant places in the world, now planned for the end of the university's Spring semester, and also engage with students and faculty at partner institutions in Germany and Poland. The university offers scholarship support to help students cover travel costs.
Learn more about Fitchburg State's faculty-led study abroad programs at https://www.fitchburgstate.edu/academics/undergraduate-academics/study-abroad/faculty-led-study-abroad-programs.