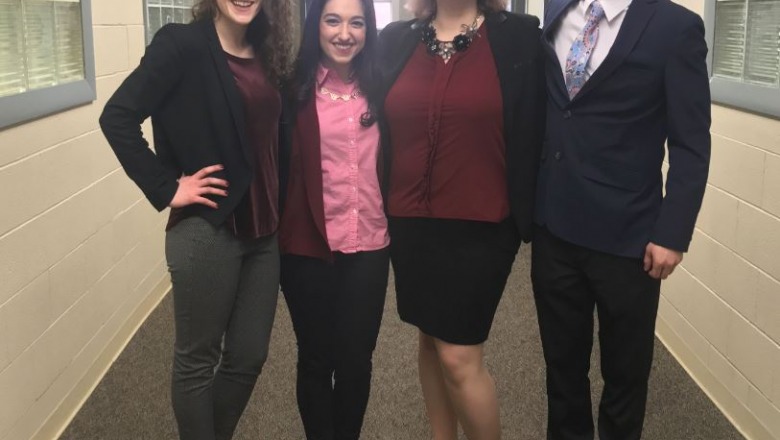 Each year, the American Advertising Federation hosts this competition that provides over 2,000 college students with the real-world experience of creating a strategic advertising, marketing, and media campaign for a corporate client. After the nine-month preparation of the project, students then present this work and pitch their marketing campaign to a panel of advertising professionals at the district, semi-final, and national levels.
In the past, corporate clients have included Coca-Cola, Snapple, Mary Kay, and Tai Pei Frozen Asian Food. This year's client was Ocean Spray.
When the client was revealed and the case study was released in late August, Carr's fall semester Marketing Communication class began collecting and conducting research, developing the central creative ideas, and doing preliminary design work for the campaign. Transitioning into the spring semester, some students continued on while new students joined forces to constitute Carr's Writing for Advertising class.
This class continued to develop and work with the creative strategy, created media content (including commercials, social media campaigns, photography, graphic design work, and more), conducted more research and focus-groups, and culminated all of this work into an extensive and detailed 21-page plans book.
This was the University's fifth year competing in District 1 against other Northeast schools including Emerson College, Johnson and Wales, Roger Williams, Endicott College, and more. The 20-minute scripted media presentation was performed by four of the Writing for Advertising students: Jessica Coates '19, Nick Trotto '18, Meighread Dandeneau '20, and Dominique Goyette-Connerty '19, in front of a panel of five judges and a crowd of 300 people.
Though the Fitchburg State team didn't place in the top three to advance to the national competition, students and faculty alike are proud and impressed with the ambitious body of work they made this year.
"I'm very proud of the campaign that we put together," said Sean Mullen '19, who was part of the university team. "Many people put many hours into the project and I'm so happy with how well the team worked together."
"We took a big risk on our creative idea and even though our project did not place, that risk paid off hugely for all of us in terms of the growth we experienced as students and as young professionals," said Erica Foley '19. "To be able to work with such an incredibly talented group of people has been a huge honor and an amazing, humbling experience."
Those interested in being a part of Fitchburg State's advertising team on the road to compete next year, should consider registering for Carr's Marketing Communication course in the fall (COMM 4212) and/or his Writing for Advertising course in the spring (COMM 3430).
This article was written by Dominique Goyette-Connerty '19, a member of the class that competed.
Fitchburg State took on schools from across the Northeast this spring when 30 students from Professor Robert Carr's Writing for Advertising class presented at the National Student Advertising Competition (NSAC) District 1 competition.