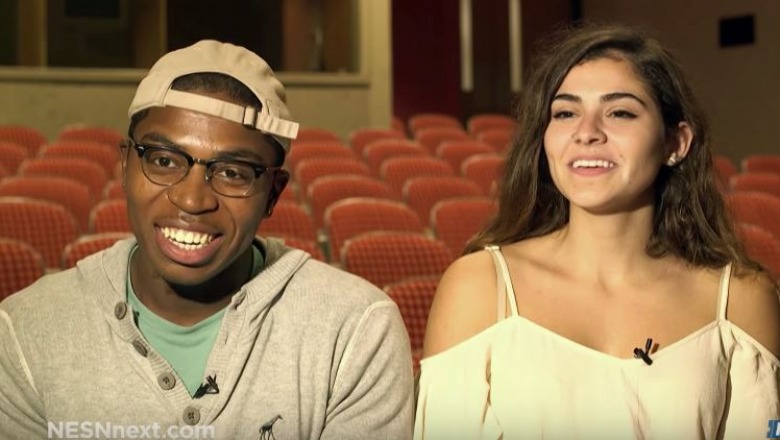 Flynn, of Salem, N.H., and Bernardez, of Boston, are majoring in Communications Media with a concentration in film and video at Fitchburg State.
"NESN Next Producer" will air following the Bruins post-game show. Described as part "Shark Tank," part "America's Got Talent," the series showcases New England college filmmakers who create short sports films with the hope of winning $20,000 and a job opportunity at NESN.
The weekly series features two student-produced films and backstories on the filmmakers during each of the first six episodes. The film shorts are judged by two Hollywood producers with local ties – television Hall of Famer and Red Sox Chairman Tom Werner and renowned co-creator/executive producer Brad Falchuk (Glee, American Horror Story, Scream Queens, etc.).
For the series finale on Saturday, March 25, Werner and Falchuk will select three finalists. Each will meet with Red Sox marketing executives and will be assigned to produce a short Red Sox vignette. The finalist with the best student film and Sox vignette will win $20,000 and a job opportunity at NESN.
NESN posted the top 12 short films on the show's website. Viewers can watch and vote for their favorite with the winning student filmmaker receiving a $1,000 cash prize. NESN selected students from nine different New England colleges and universities to showcase their work, including:
Fitchburg State University
Boston University (2 films)
Central Connecticut State University
Emerson College (2 films)
Quinnipiac University (2 films)
Sacred Heart University
Suffolk University
Trinity College
Wellesley College
About NESN
The New England Sports Network (NESN) is owned by the Boston Red Sox and Boston Bruins and delivered to over 4 million homes throughout the six-state New England region and nationally as NESN National. The definitive source for New England sports programming, NESN has consistently been one of the top rated regional sports networks in the country and was the first regional sports network in the country to originate every game and studio show in high definition.
Fitchburg State students Shelby Flynn and Kevin Bernardez will be featured in the season premiere of New England Sports Network's "NESN Next Producer" at 10 p.m. Saturday, Feb. 4. The students' film tells the story of an 11-year-old New Hampshire girl and her experiences in competitive drag racing.