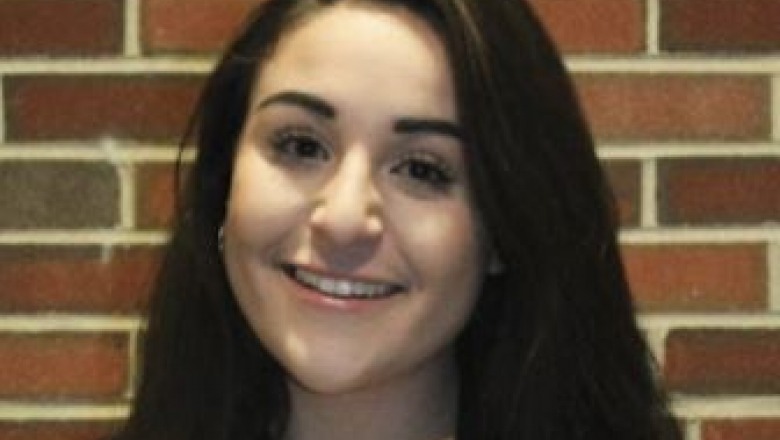 "I've always loved watching sports, especially in person," said the senior Communications Media major from Waltham. "I also love the idea that athletics can give anyone the opportunity to apply themselves and succeed in something regardless of their background or personal history."
She played field hockey and softball in high school but had to step off the field in order to work. As a student at Fitchburg State, she sought a work study position with the University's Athletics Department.
"I decided it would be a fun position that would allow me to get involved on campus," she said. "I figured I might as well get paid to attend the games I was already interested in going to."
It was a wise decision, as Cardona-Foster found herself surrounded by supportive mentors in Athletic Director Sue Lauder and her staff who opened the doors to a variety of opportunities and, she hopes, a career.
"They really put up with me anytime I wanted to learn a new task or why something worked the way it did," she said. "They taught me all the stats and event operations of collegiate athletics which helped prepare me for the two NCAA conventions I attended."
Those conventions were the College Sports Information Directors of America Convention in Florida last June, and the NCAA convention in Indianapolis in January, for which Cardona-Foster was one of 40 students selected nationally selected to participate in the NCAA Convention Division III Student Immersion Program. The goal of the immersion program is to build a pipeline of talented ethnic minority candidates, with an interest in Division III coaching and/or administration, in an effort to ultimately diversify the division.
Lauder said Cardona-Foster deserved the distinction of being selected for the immersion program, and said she'd been an excellent contributor to Fitchburg State's program. "She's one of those students you just know is going to do a good job," Lauder said.
Cardona-Foster said the January conference was fun as well as educational. "Aside from the business aspects of the convention, they really pamper you with food and fun activities at night, not to mention free flights and hotel," she said. "But I think most importantly these conventions allow for an incredible networking experience. Having the opportunity to hear from year-two interns all the way up to athletics directors, really gave us the opportunity to understand all levels of collegiate athletics."
Cardona-Foster is spending the spring semester as an intern at Kel & Partners, a public relations agency in Boston's Seaport district. After graduating she hopes to find a position where she can meld her knowledge of collegiate athletics with her public relations experience, and also plans to continue her education at the master's level.
"Without my experience in the Fitchburg State Athletics Department, and the experiences I had at national NCAA conventions, I would not feel as prepared as I do to pursue this career," she said. "My confidence has grown tremendously through these experiences and through the crucial connections I have made."
For Mary Cardona-Foster, athletics has always been a passion, even from the sidelines.