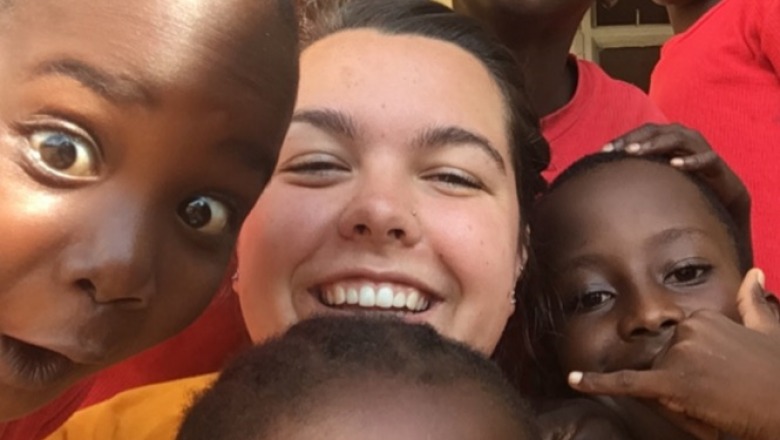 Steiger, a native of Leicester, and Professor Nancy Murray visited the Nambale Magnet School in Kenya this summer via the Kappa Delta Pi education honor society. (Steiger is co-president of the Fitchburg State chapter, and Murray is its faculty advisor.) During her month in Western Africa, Steiger said she gained a new appreciation for the comforts of home but affirmed her passion to serve children throughout her career.
The Nambale Magnet School is a residential school for children orphaned or otherwise rendered vulnerable by AIDS in rural western Kenya. Some students come from families who can pay to attend, while others are able to enroll because of donor support. There are 435 students at the school, ranging from pre-kindergarten to early teens, learning from 17 teachers. The classes are taught in English.
"The students' respect for their teachers was unbelievable," said Steiger, recalling chants of gratitude throughout their lessons. "Just being there and donating my time was so rewarding, I want to keep doing it. I didn't realize how much a kind gesture can mean until I did this."
"For as little as they have, the teachers do a great job differentiating instruction," Murray added. "And they clearly love their students. If you're a good teacher, you can teach anywhere."
The American delegation for the recent visit included Kaitlyn Thibault, a student at the University of Rhode Island who is also involved with Kappa Delta Pi. Steiger and Thibault collaborated on a guide book for future visitors to the Kenyan school. The American visitors brought $600 in school supplies and 20 iPads that were donated by Fitchburg State, and also introduced them to Footsteps2Brilliance, a mobile app that supports early childhood literacy. The app was provided free of charge to the school.
Steiger, majoring in special education with a concentration in moderate disabilities (preK-8), and Murray have kept in frequent touch with the Nambale students and teachers online since the visit.
"We talk about wanting our students to become leaders," Murray said. "Megan's own philosophy before the trip was the epitome of that, and now that's even stronger. They were blessed to have her there."
Steiger hopes to return to the school in the future and will carry memories of her visit for a lifetime.
"This made me realize that you don't know what's going on in every student's life. You just need to provide them with a safe environment," Steiger said. "It's showed me that kindness matters, and going that extra mile means a lot to them."
Megan Steiger '20 knew that traveling to Africa to experience teaching in a Kenyan school would be a memorable experience, but she didn't expect it to change her life.