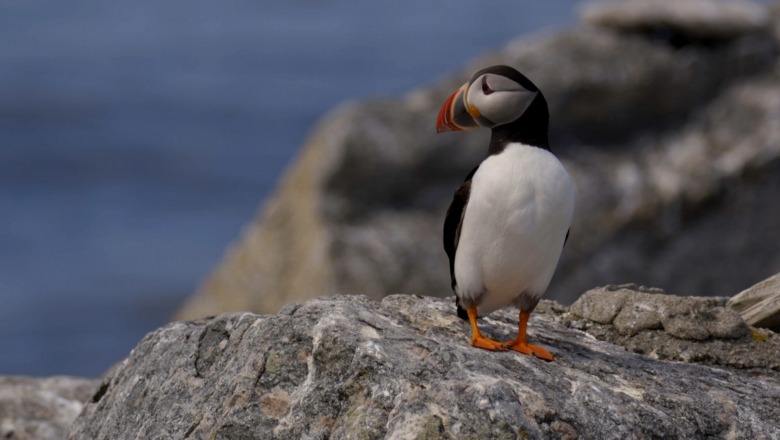 student showcase
.
Project Puffin
, directed by Vanessa Kahn and Kylee Acevedo, will screen at 1 p.m. Saturday, April 28 at the Somerville Theater.
The film takes viewers to Eastern Egg Rock Island, where researchers and interns work together to protect and preserve the country's only colony of Atlantic puffins.
The idea for Project Puffin came after reading a 2016 National Geographic article about a mass puffin die-off in the Bering Sea that was related to climate change," Kahn said. "For me, that was hard to hear about because I had been a fervent puffin-lover since I was a little girl. Kylee and I were juniors when we started discussing the possibility of producing a nature documentary, and the puffin topic presented itself as the perfect subject, especially where we had access to a colony just up the coast."
They began pre-production last spring, when the filmmakers developed their ideas, sought funding and negotiated access to the island.
"We got the green light in June from Dr. Steven Kress, the Executive Director of the Seabird Restoration Program, who was our guide when we finally arrived at the island in mid-July," Kahn said. "Being able to witness the tireless efforts of researchers and interns, and then coming up close and personal with these beautiful seabirds that were extinct from the island not more than 40 years ago was an unforgettable experience for which I'm deeply grateful." 
Kahn said she and Acevedo shared the goal of wanting to discuss environmental issues.
"It's exciting to see our film reach a broader audience and hopefully educate someone about something they didn't already know," Kahn said. "Without events like IFFB, we wouldn't be able to share our message that we set out to convey with Project Puffin, so its an incredible honor to be a part a of this showcase and featured among the other talented filmmakers. And of course, we have an infinite amount of gratitude for our wonderful professors who guided us through every stage of the filmmaking process and are providing us with the incredible opportunity to screen at IFFB."
The screening is free for students and $5 general admission for other visitors.
Jurors for the student showcase include:
Julie Burros; Chief of Arts & Culture, City of Boston 
Lisa Strout; Director, Massachusetts Film Office
Christina Raia; Crowdfunding Director, Seed&Spark
Learn more on the IFF Boston website.
Fitchburg State will be represented at this weekend's Independent Film Festival Boston's