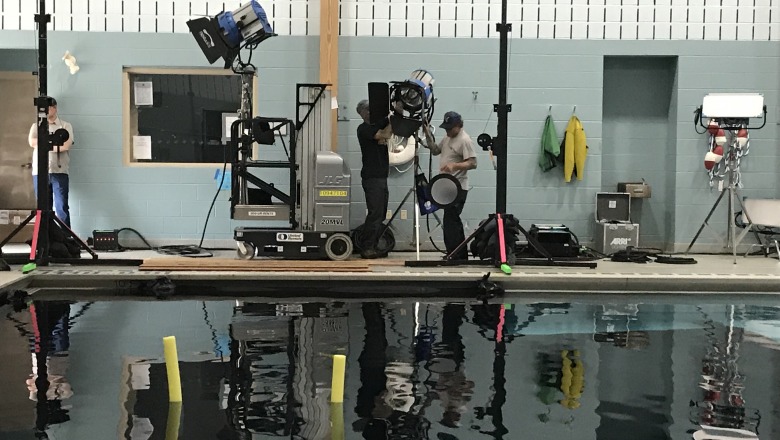 The crew took over the swimming pool in the university Athletics and Recreation Center, which was used for an underwater sequence set in a lake (no spoilers, here, about who was in the scenes filmed on campus). The series is largely set in the fictional town of Castle Rock, Maine, and takes inspiration from the stories of author Stephen King.
While the finished scene may only span a few seconds of screen time, crews set up the scene for days in advance. Among those working on the production was Mark Casey of Ipswich, a 1984 Fitchburg State graduate. Casey – who also worked on season one of "Castle Rock" – is a rigging gaffer, helping set up lights for the production.
Casey said he has been fortunate to work steadily in his chosen field since graduation, helped largely by the state's tax incentive program that has lured many film and television productions. "Castle Rock" has been filming around the state its entire run, with production offices in Devens.
"Fitchburg State has greater representation on most film crews in this state than Emerson or Boston University," Casey said, noting there were several other alumni just on the "Castle Rock" crew.
Tori Weeks' 19 was among those who got an up-close look at the filming. The Centralia, Wash. Native graduates in December with a degree in Communications Media with a concentration in film and video, and has worked for the past two years as a lifeguard in the Athletics and Recreation Center. Over the days of setup and filming, Weeks observed about 20 hours of the production.
"I was very fascinated considering I've never seen a professional television crew work before," she said. "It was interesting comparing what they were doing to what I've learned and experienced here at Fitchburg State through the film program. Everyone on the crew was super friendly."
Savanah Hippert '20, majoring in English studies with minors in theater and graphic design, also got a close look as a student supervisor at the Recreation Center. "Being a part of workshops in theater classes, it's cool to see the filmmaking side of things," she said. "To see something of this scale is very cool, especially in a pool."
Recreation Services Director Brad Cohrs said it was a pleasure to have the crew on campus. "They were very professional but also very open to letting us into their world," he said. "It was a privilege to see them in their environment."
The premiere date for season 2 of "Castle Rock" has yet to be announced, but production is continuing in and around Central Massachusetts.
Fitchburg State recently welcomed a production crew from Hulu's "Castle Rock" television show, filming scenes that will air as part of the streaming program's upcoming second season.