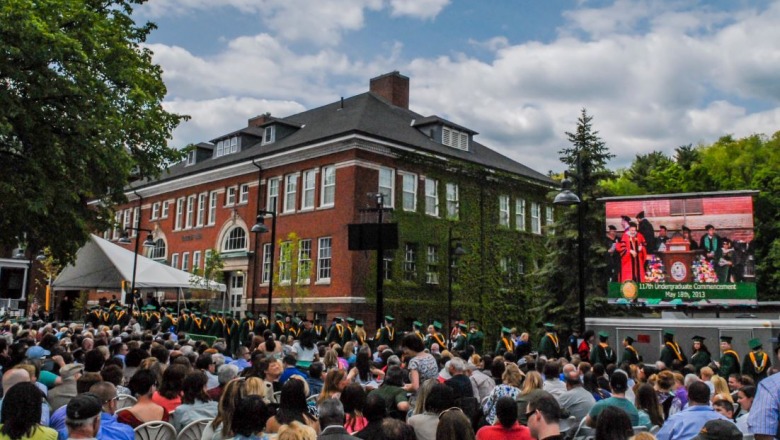 Fitchburg State University is hosting its 126th commencement exercises in 2022 with fully in-person celebrations of student achievement.
Graduate degrees will be awarded at 6:30 p.m. Thursday, May 12 in the university's Athletics and Recreation Center at 130 North St. President Richard S. Lapidus will deliver remarks at the ceremony.
Jennifer C. Belfield of Leominster will also speak at the ceremony as the recipient of the Graduate Student Leadership Award. Belfield, who is completing a master's degree in computer science, completes her degree with a perfect 4.0 grade point average and will continue her studies this fall in a doctoral program at Worcester Polytechnic Institute.
Undergraduate degrees will be awarded at 10 a.m. Saturday, May 14 on the main quadrangle (the ceremony will be held in the Athletics and Recreation Center in the event of inclement weather).
As previously announced, the commencement address will be given by Fitchburg State alumna Rosaline Cardarelli, Ed.D.. Cardarelli is the founder and chief executive officer of the Education for All Coalition, Inc., a humanitarian organization dedicated to creating and bridging educational opportunities for youth through education services for displaced children affected by forced migration around the world.
Cardarelli will also be presented the President's Medal at the undergraduate ceremony.
Also speaking on May 14 will be undergraduate valedictorian Sebastian Goyette-Connerty of Ashby. Goyette-Connerty, completing his bachelor's degree in computer science, is graduating in just three years, having completed numerous dual enrollment credits during his studies at Fitchburg High School.
President Lapidus will award an honorary degree to Donald R. Irving. Irving, a two-time Fitchburg State graduate, founded Data Guide Cable Corp. in Gardner among his many successful business ventures. He recently completed his second term on the university's Board of Trustees, where his tenure included service to the state Board of Higher Education.
Additional details on the ceremonies may be found at fitchburgstate.edu/commencement. The ceremonies will be streamed live on FATV.