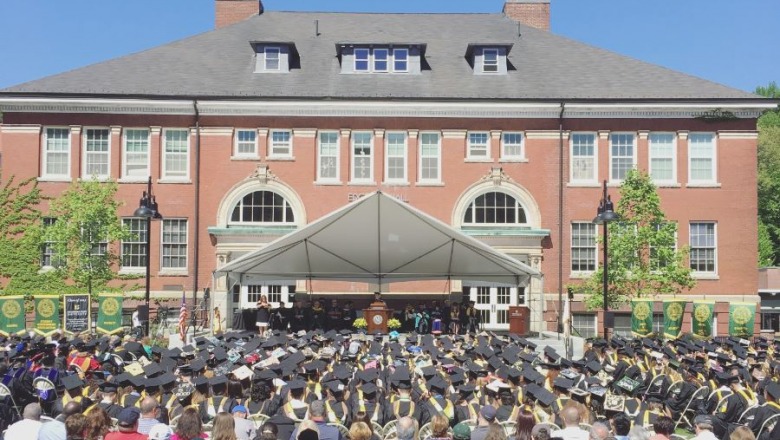 Fitchburg State University will celebrate the contributions of students and community members at its upcoming 123rd commencement exercises in May.
At the undergraduate commencement ceremony on Saturday, May 18, Nypro Executive Vice President and CEO Steven D. Borges '90 will deliver the commencement address. Borges will also be awarded the President's Medal at the ceremony in recognition of his service.
Additional honorees will include:
Honorary Degree Recipient - Anna Maria Clementi
Anna Maria Clementi has been a leader and philanthropist in her community for decades, giving of her time and talent in the service of education and cultural enrichment.
She is one of the founding members of the Center for Italian Culture at Fitchburg State University, currently serving as its president. For 20 years, the CIC has promoted the language and culture of Italy through a continued array of exceptional cultural programs and activities on campus and in the community, and has also enabled students and faculty to travel to Europe through scholarship support.
She traces her ancestry to Corfinio, Aquila in the province of Abruzzo. Her passion for all things Italian includes her family foundation's sponsorship of an annual dinner at Fitchburg State where the cuisine and wines of different regions are highlighted in a professionally guided culinary tour.
Her contributions to the Fitchburg State community includes two terms on its Board of Trustees, where she is currently vice chair. She was a strong and early supporter of the University's efforts to launch a local "Bridges Together" program that connects generations to create educational opportunities. The effort has touched more than 200 local pupils and continues with the University's Adult Learning in the Fitchburg Area program.
Clementi has also been active with the Fitchburg Art Museum for more than 30 years, where she currently serves on the board and chairs its education committee. She has been a strong proponent of the partnership between the museum and Fitchburg State, guided by her belief that the University must prepare students to be global citizens who can embrace other cultures, beliefs and values.
Clementi completed Bachelor of Arts and Master of Arts degrees in Italian Studies and a Bachelor of Arts in French Studies at Boston College. A proud mother and grandmother, she lives in Lunenburg.
Valedictorian - Madison Medina
Madison Medina is graduating at the top of her class after a collegiate career of distinction in the classroom and on the playing field.
The New Hampshire native came to Fitchburg State to enroll in its groundbreaking Police Program, a rigorous five-year course of study whose graduates complete two degrees and certification to serve on municipal police departments across Massachusetts. Medina will begin the 17-week police academy two days after finishing her bachelor's degree.
At Fitchburg State, she also enrolled in the University's Honors Program, completing a challenging series of courses and seminars that emphasized proficiency in writing and research. She has shared her work at the University's Undergraduate Conference on Research and Creative Practice and is a member of Alpha Phi Sigma, the criminal justice honor society.
In addition to her academics, Medina has been a standout athlete with the Fitchburg State Falcons, competing with distinction as a member of both the women's soccer and softball teams. Earlier this spring she was inducted into the National College Athlete Honor Society in recognition of her academic achievements.
Following this summer's police academy, Medina will return to Fitchburg State this fall to complete her master's degree in criminal justice in preparation for a career in law enforcement.
Graduate Student Leadership Award - Christine Foote-Lucero
Christine Foote-Lucero has been a licensed registered nurse in Colorado for 17 years, with a focus on critical care. For the past decade, she has worked as a forensic nurse examiner (FNE) and currently manages the FNE team at the University of Colorado Hospital (UCH) in Aurora, Colo., where she developed a robust FNE orientation program as well as education and training for on-going FNE performance based competencies, clinical skills exemplars, and high fidelity simulations. Her clinical experiences as a forensic nurse have included death investigation and correctional nursing, as well as sexual assault, intimate partner violence, physical assault, strangulation, elder abuse, child abuse, and human trafficking.
She is board certified as a sexual assault nurse examiner for adults, adolescents, and pediatrics. In addition, she is a board certified emergency nurse. She has worked in professional nursing development and is a certified instructor for the emergency nurses' association, teaching ENPC and TNCC, as well as a guest lecturer for the Denver College of Nursing.  She has presented at both state and national conferences on a variety of forensic and trauma topics. She is a member of International Association of Forensic Nurses (IAFN), local sexual assault response teams, local human trafficking task force, Emergency Nurses Association, American Nurses Association, Academy of Forensic Nurses, and the American Association of Legal Nurse Consultants. She is also serves as the secretary for the Colorado State IAFN Chapter and was formerly the member-at-large.