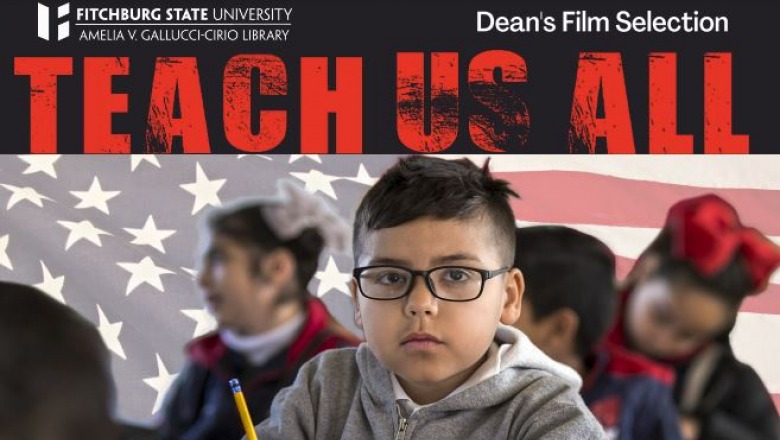 Fitchburg State University's Amelia V. Gallucci-Cirio Library will host a virtual panel talk at 3:30 p.m. Monday, April 26 on segregation and education, along with other topics raised in the acclaimed documentary film Teach Us All.
Sixty years after the Little Rock Nine faced mobs of racially charged hatred and became cornerstones of the civil rights movement, Teach Us All (2017) examines how the present day United States education system fails to live up to that promise of desegregation as it slides back into a re-segregation of its modern schools. The film is organized in three collaborative themes: the teacher's role in influencing young people's lives, the need for community engagement for school success, and the power of the students who will be charged with the fight for their right to education equity. 
Panelists for the event will include: Fitchburg High School Principal Jeremy Roche; Fitchburg State instructor Lynn D'Agostino; Fitchburg State Professor Katharine Covino; and Fitchburg State graduate student Dana Meyer. The talk will be moderated by Dr. Nancy Murray, Dean of Fitchburg State's School of Education. The talk is free and open to the public. To join the discussion, go to https://meet.google.com/ncc-whpx-rjz, or view a livestream at stream.meet.google.com/stream/8387babc-63da-4777-babb-dd1cdc9787b9 or join by phone at (‪US) ‪+1 803-999-5523 PIN: ‪680 428 615#.
The film Teach Us All can be viewed by members of the Fitchburg State community at https://fitchburgstate.kanopy.com/video/teach-us-all, and is also available through local libraries.
This program is presented by the Amelia V. Gallucci-Cirio Library and the Fitchburg State University Deans' Anti-Racism Grant.