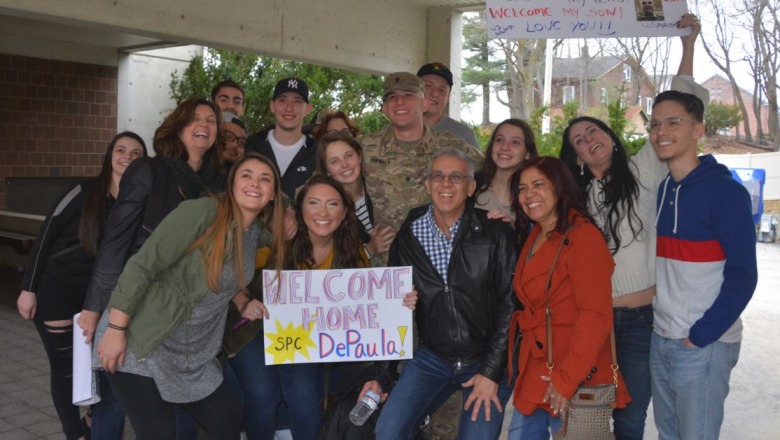 Dozens of families were reunited Saturday when Fitchburg State University welcomed returning soldiers from the 1-181st Infantry Regiment, Massachusetts Army National Guard following a yearlong deployment overseas.
The soldiers were deployed to Africa as part of Task Force Sinai in support of the Multinational Force and Observers Mission to assist with joint security efforts. It was the regiment's sixth deployment since 9/11.
Fitchburg State hosted the ceremony, where several current students and alumni were among the returning troops. Fitchburg State is a Military Friendly institution and provides a range of resources and support services to the veterans in its student population.
"We are honored to host this ceremony for the returning soldiers and their families," Fitchburg State President Richard S. Lapidus said. "As a Military Friendly institution, our commitment to these men and women is ongoing, and it is a pleasure to be able to facilitate this joyous occasion. To these individuals who protect and serve every day, we say thank you and welcome home."  
Families, many carrying homemade signs welcoming back fathers, sons and husbands, awaited the troops' entrance to Weston Auditorium and burst into applause when the soldiers were dismissed to reunite. The scene outside the auditorium was an emotional one, as the men were reunited with family they had not seen in a year.