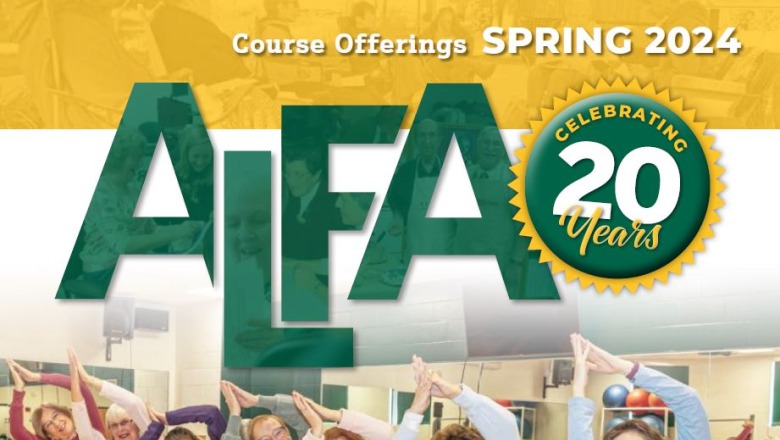 Registration is now open for Fitchburg State University's Adult Learning in the Fitchburg Area (ALFA) Fall courses, with offerings that will include a review of major Supreme Court decisions from the last term as well as a course on the impact of technology on human thought and communication. There's a book club on political and social issues and a course on how best to declutter and organize your digital photographs. Learn conversational Spanish for beginners or take your French skills to the next level. There are dozens of classes on the calendar, with the full program viewable online at fitchburgstate.edu/alfa.
ALFA is a lifelong learning institute that serves adult learners in Fitchburg and the surrounding communities. ALFA is sponsored by the School of Graduate, Online, and Continuing Education at Fitchburg State in collaboration with volunteer members of the community. It offers non-credit daytime classes, trips, special events, and a free speaker series. 
ALFA students are encouraged to volunteer and participate in program leadership and development, as well as social and recreational activities. Most courses are $45 (and free for students over age 90). A limited number of scholarships are available.
The fall courses include an introduction to community journalism, musical offerings including ukulele and harmonica classes, fitness classes including yoga and barre stretch and tone, and a series of walkabouts on area hiking trails. 
The season will also feature a five-part online series on important historical topics including the Reconstruction following the Civil War, the Weimar Republic in German history, and the evolution of the public library in Massachusetts.
The participant-led ALFA salon also continues this fall, with Fitchburg State faculty and other guests leading discussions on topics ranging from local abolitionist history to the U.S. labor movement and the university's plans to redevelop the Main Street theater into a performing arts center.
See the complete course listing and register online at marketplace.fitchburgstate.edu/alfa. 
ALFA is always on the lookout for new instructors and new subject matter to share with its students. Anyone with a specialty that they think others would be interested in should contact the program directors at alfa@fitchburgstate.edu for details about becoming an ALFA instructor. Also, direct any questions to the ALFA office at 978-665-3706, or email at alfa@fitchburgstate.edu.