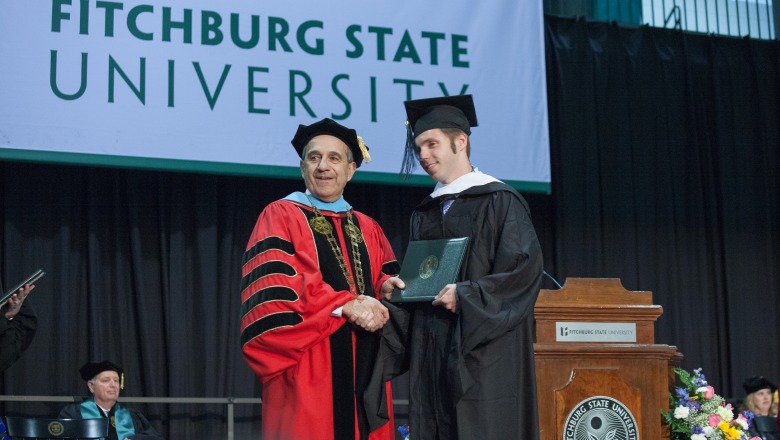 Because of inclement weather, Fitchburg State University will be moving its 118th Commencement Exercises Undergraduate Spring Ceremony at 10 a.m. Saturday, May 17, to the Athletics and Recreation Center at 130 North St.
The change of venue will restrict access to the building to registered graduates and three guests apiece. Graduates were notified of this possibility earlier this week and instructed on how to secure guest tickets. Because of space limitations and fire codes within the Athletic and Recreation Center, the University will not be able to deviate from that ticket limit for graduates. Approximately 600 graduates will be awarded their bachelor's degrees during the ceremony.
Supplementary viewing locations have been arranged elsewhere on the campus, specifically, Percival Auditorium in Percival Hall, 254 Highland Ave.; the Falcon Hub, Main Lounge and Ellis White Lecture Hall in Hammond Hall, 160 Pearl St.; Kent Recital Hall in the Conlon Fine Arts Building, 367 North St.; and Weston Auditorium, 353 North St.
The ceremony will also be streaming live on Fitchburg Access Television.
The ceremony will include an address by Christopher Maloney, a 1989 graduate and the chief U.S. probation officer for the District of Massachusetts. The Distinguished Alumnus Award will also be presented to Fitchburg High School Principal Jeremy Roche during the ceremony, among other accolades for students and faculty.