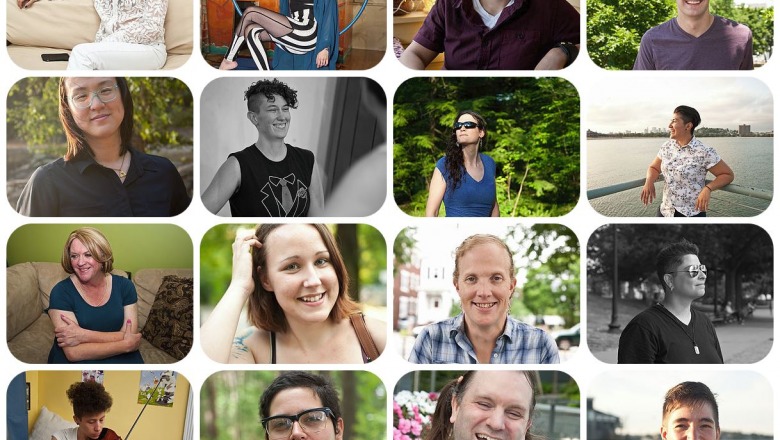 Fitchburg State University's Amelia V. Gallucci-Cirio Library is sponsoring a series of programs this spring that explore gender and equality. Journey to Equality: The LGBTQ Civil Rights Movement will provide timely, relevant and engaging LGBTQ programming to the campus and North Central Massachusetts. All events are free and open to the public. 
This series is funded in part by Mass Humanities, which receives support from the Massachusetts Cultural Council and is an affiliate of the National Endowment for the Humanities.
The spring series begins at 5:30 p.m.
Wednesday, Jan. 31
with a talk by local artist and Fitchburg State alumna Alex Mancini. She will briefly discuss the evolution of her portrait and interview exhibit
Beyond the Binary
, which showcases 22 non-binary and gender non-conforming individuals. Lenny Schnier, Noah Toledo and Ally Tippett who are profiled in this exhibit will discuss their experiences as individuals who identify outside the gender binary. The talk will be given in Ellis White Lecture Hall in Hammond Hall, 160 Pearl St. Following the talk guests are invited to attend a reception and view the exhibit in the Amelia V. Gallucci-Cirio Library on the third floor of Hammond Hall. Mancini will also give a talk at Fitchburg High School at 3 p.m. Wednesday, Jan. 31. The
Beyond the Binary
exhibit, along with the
Journey to Equality, The History of the LGBTQ Civil Rights Movement
and
Acting Up to Fight AIDS: Remembering the ACT Up Movement 30 Years Later
exhibits will be on display in the Amelia V. Gallucci-Cirio Library through May 31.
Author Clarence Harlan Orsi will do a public reading of his essay "Taking Stock: Queering Gender Narratives" at 2 p.m. Friday, Feb. 9 in room G-01 at Hammond Hall, 160 Pearl St. The reading will be followed by a writing prompt and activity along with time for discussion. Harlan Orsi is the author of many acclaimed essays and short stories. He has published writing in many celebrated journals, including n+1, Cream City Review, Electric Literature, New England Review, and Passages North. He teaches English at Cecil College in northern Maryland.
The series moves off campus for a talk by author Elijah C. Nealy entitled "Helping Families with Transgender Children Navigate the Emotional Transition" at 6:30 p.m. Thursday, March 8 at the Fitchburg Public Library, 610 Main St. Bringing decades of clinical practice, especially with transgender and gender-diverse children and youth, Nealy will explore the joys and challenges families of trans youth experience. The program is ideal not only for families but also trans youth and adults, students, educators, professionals interested in gender issues and family counseling. Nealy is a professor of social work at the University of St. Joseph in West Hartford, Conn., as well as an ordained minister who preaches and provides workshops within faith communities. He is an out trans man, father and author of the book Transgender Children and Youth: Cultivating Pride and Joy with Families in Transition.
In April, the series continues with a talk by Fitchburg State Professor Katherine Rye Jewell entitled "Journey to Equality: The History of the LGBTQ Civil Rights Movement." The talk will be given at 7 p.m. Thursday, April 12 at the Leominster Public Library, 30 West St., Leominster. Using a historical and political lens, Jewell will discuss pinnacle moments of the LGBTQ civil rights movement that helped secure basic rights while highlighting the work still needed to achieve true equality for the LGBTQ community. Jewell is the author of Dollars for Dixie: Business and the Transformation of Southern Conservatism in the Twentieth Century. A specialist in American political history, she is currently writing a book on the history of college radio that examines regulation and the politics of the culture wars. 
The events return to the Fitchburg State campus for a queer poetry reading and open mic night at 7 p.m. Thursday, April 26 at the Falcon Hub in Hammond Hall. Four featured poets will read original and seminal LGBTQ poetry. Those attending are welcome to read their original or favorite queer poem. Featured poets will include Hannah Larrabee, Rage Hezekiah, Jade Sylan and Hannah Baker-Siroty. The event is co-sponsored by the Gay Straight Alliance at Fitchburg State.