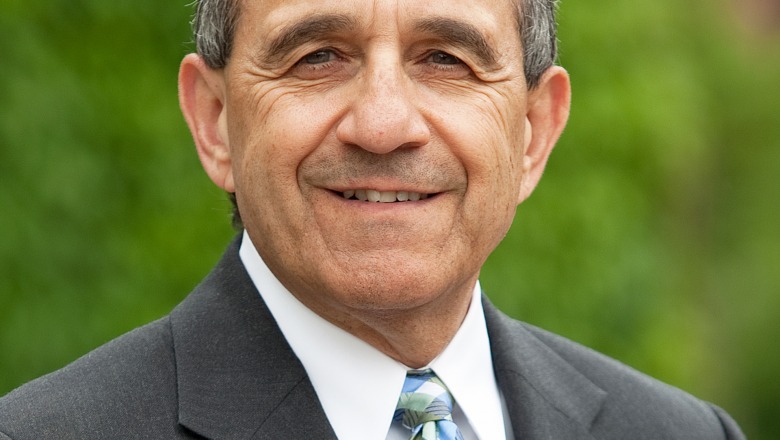 "I am honored to have been chosen to lead this great university and its dedicated faculty and staff, and thankful to have served under a supportive and talented Board of Trustees," Antonucci wrote in a letter to the campus community. "I value the past 11 years as the most rewarding of my professional life."
Antonucci, Fitchburg State's 10th president, made the initial announcement before a campus gathering in Hammond Hall. He noted that he was announcing his intentions now to allow as much time as possible for a broad national search.
"It would be difficult to overstate the impact President Antonucci has had on this institution," said  Board of Trustees Chairman Carol T. Vittorioso. "He has overseen what is likely the most extensive transformation of the campus in its 120-year history. Moreover, he has advanced our stature, our academic position and our interaction with communities near and far. I look forward to working with him in his final year at Fitchburg State as we embark on a search for a new president to continue the University's progress."
Of the search process, due to begin in earnest at the start of the fall semester, Vittorioso said, "It will be open and transparent, with all voices heard. This institution and the people who care so deeply about it deserve nothing less. I have no doubt that we are positioned to attract high-quality applicants."
Addressing the coming year, Antonucci said in his message, "I assure you that I will be as fully engaged as ever. There is much to be done, and I will continue to work with all of you until my last day as president."
Antonucci, former Massachusetts commissioner of education, began his tenure at Fitchburg State in June 2003. Since then, enrollment has increased, as have the number of full-time undergraduate faculty members. Academic programs have been revised or added, online programs have multiplied, and a major fundraising campaign was completed. Antonucci was also a leader in the successful effort to rename the comprehensive state colleges as universities.
Other accomplishments include the drafting of a new strategic plan, administrative reorganization, and completion of a host of capital projects. Historic buildings have been renovated with the latest technology and new spaces created to enhance the experience of student life. The science center on North Street, opened in 2013, was the first new academic structure to be built on campus in 30 years.
Additional projects include renovation of the dining commons, conversion of the University's aging outdoor athletic facilities into a professional-level stadium, and construction of a faculty teaching center in the library. Antonucci also embarked on an ambitious series of technology initiatives, including establishment of a "wireless" campus, a total upgrade of the computer laboratories, and the creation of dozens of new classrooms that allow faculty access to the latest technologies.
Early on, Antonucci made a commitment to strengthen the University's commitment to the city of Fitchburg. The multi-year effort to create an attractive boulevard connecting the University's central artery, North Street, with the city's Main Street was accelerated with the purchase of several distressed properties, construction of a new campus police station, relocation of the Center for Professional Studies to Main Street and completion of the final phase of street beautification. A new exercise and sports science facility was also completed in the corridor. At the city's request, the University assumed control of the Wallace Civic Center and refurbished the aging ice arena.
A major renovation of the University's campus center was completed in 2012. In an effort to provide additional academic space, Antonucci worked with the University's foundation to purchase an off-campus building that now houses many of the institution's auxiliary services.
Antonucci has significantly increased the University's visibility in Boston as well as the local region, meeting frequently with elected officials, members of the Department of Higher Education and other state agencies. Governor Deval Patrick appointed him to co-chair the Higher Education Task Force and to serve as a member of the Pre-K through 12 Task Force. Subsequently he was appointed by the governor to chair the University of Massachusetts and Public Higher Education subcommittee of the Readiness Project Leadership Council, and to serve as a member of the Workforce Standards and Performance Accountability Task Force.
As education commissioner in the 1990s, Antonucci played a key role in the passage and enactment of the state's historic Education Reform Act of 1993, a landmark law now seen as a national model.
Antonucci is former president of the school group at Cambridge-based Riverdeep—The Learning Company, a leading provider of electronic educational software. He has also held the positions of president and chief executive officer with Harcourt Learning Direct and Harcourt Higher Education, and chief executive officer of Harcourt eLearning and the California College for Health Sciences. Harcourt was the first online college in Massachusetts granted authority to award bachelor and associate degrees.
For 12 years Antonucci was superintendent of schools in Falmouth, serving as the chief executive officer of the town's K-12 system. From 1974 to 1980, Antonucci served as assistant superintendent of the Leominster Public Schools. He began his career in education in 1967 as a teacher and administrator in Lunenburg.
A member of the NCAA Division III Chancellors/Presidents Council, he serves as a member of its Joint Legislative Steering Committee.
Antonucci is a trustee or director at Eastern Bank, Unitil, Fallon Clinic and Our Father's House, as well as a corporator at Cape Cod Healthcare and the Greater Worcester Community Foundation. He is an elected town meeting member in Falmouth and a member of the board of directors of the United Way of North Central Massachusetts and former president of the Chamber of Commerce.
Antonucci has also chaired the New England Association of Schools and Colleges strategic planning initiative and the State University System of Massachusetts Council of Presidents.
He holds two degrees from Fitchburg State, and was presented with an honorary doctoral degree as well as the University's Distinguished Alumnus Award. He holds a doctorate in education from Boston University, where he served as an adjunct faculty member from 1994 to 1998, teaching graduate courses on state and local politics and education. He also holds honorary degrees from Endicott College and the Massachusetts Maritime Academy.
His wife, Jeanne, also holds bachelor's and master's degrees from Fitchburg State. The Antonuccis have a son, a daughter, and five grandchildren.
Fitchburg State University President Robert V. Antonucci, whose vision and leadership have had a profound impact on both the campus and the larger North Central Massachusetts region, today announced his intention to retire at the end of the 2014-2015 academic year.