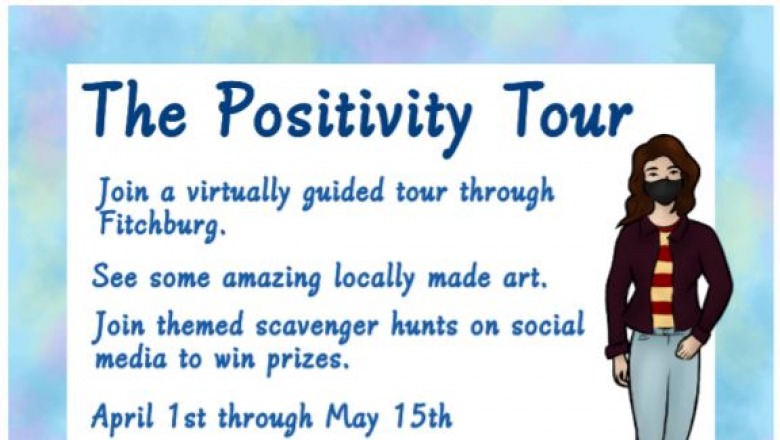 A new project spearheaded by a Fitchburg State University Honors class is designed to help make the community aware of the transformative changes now taking shape in downtown Fitchburg. The resulting "Positivity Tour" is now up and running.
With major private and public developments poised to transform the heart of the city, Professor Christa Marr from the university's Economics, History and Political Science Department and students in her current events and service learning wanted to get the community involved.
"I always like this class to be something that's community facing," said Marr, a member of the Fitchburg State faculty since 2015. In a previous iteration of the course, for example, students organized and ran a pop-up petting zoo and family fun fair at the redeveloped Mill Street corridor.
"We knew an event was out of the question this year, but we wanted to get people downtown," Marr continued. "We decided, why not a positivity tour?"
Students in the class met with officials from the local and state agencies working on downtown redevelopment, and also contacted local businesses and institutions. From the installation of a small free library at the Activate Mill Street corridor to a kindness rock garden at the Fitchburg Public Library, the tour also includes a positive pen pal mailbox (equipped with stamped envelopes) at the Senior Center and artwork created by students at the Boys and Girls Club of Fitchburg and Leominster.
"Working on this project has made me feel more hopeful for downtown Fitchburg," said Anna Perham of Weymouth, a junior majoring in elementary education at Fitchburg State. "I think for younger students, and students looking at Fitchburg State, there is a lot to look forward to. I have always been really hopeful, and encouraged by Fitchburg, and its community. Most of all my hope is that this project will spread positivity, and make others want to do a random act of kindness.
"If our project was able to make anyone who passes by and views an art installation smile, that would be awesome," Perham continued. "I also hope that visitors will be inspired to take part in our project, and make a card to drop off at the Fitchburg Senior Center, or paint a kindness rock to leave outside Fitchburg Public Library." 
"Working on this project has allowed me to view Fitchburg in a new light and appreciate its potential to become a revered part of the New England university community," said David Gambone of Ashburnham, a sophomore studying professional communications. "Understanding Fitchburg's history allowed me to appreciate its strengths and better understand its weaknesses. Seeing the new projects and plans are very exciting for me and I've been a neighbor to Fitchburg almost my entire life. We hope visitors engaging with the Positivity Tour will be able to see the vision of what Fitchburg will become in the near future as well as experience some of the already existing businesses downtown."
Visitors can follow the tour on a customized Google map that describes attractions including notable buildings and institutions, public art installations, restaurants and shops, along with developments now in progress like the redeveloped City Hall, the arts community at the former B.F. Brown School and the university's own Theater Block.
The class also designed weekly scavenger hunts running through early May, highlighting existing art and architecture along Main Street as well as the new installations created by the class.
Follow the Positivity Tour online:
Instagram: @FSUPositivityTour

Facebook: FSUPositivityTour

Twitter: @FSUPositiveTour