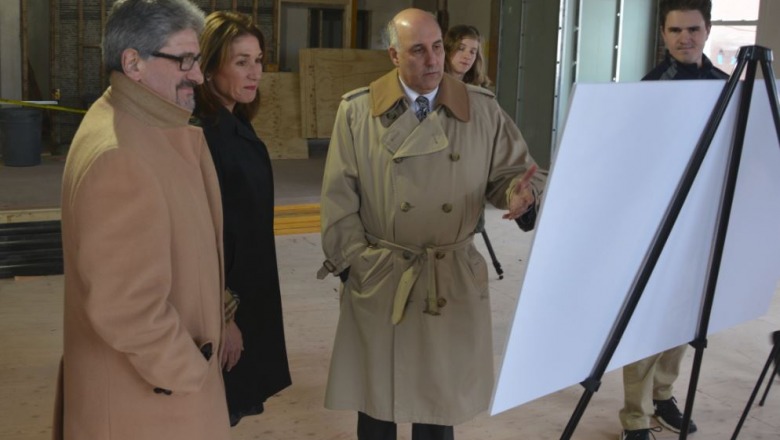 The tour included a discussion of the first phase of the project, which includes the interdisciplinary ideaLab that will house the new game design studio. The second phase will include the renovation of seven street-level storefronts, with the final phase being the restoration of the historic 1,700-seat theater itself. President Lapidus noted the University's theater program will benefit from the professional space, as will the community at large.
"When you see public investments like this, private investment will follow," Polito said as she surveyed renderings of the project that depict a bustling downtown corridor. "This is what people want to see in the city."
Mayor DiNatale agreed, noting the University and city are collaborating on efforts to renew Main Street. "We are inextricably tied together," he said. "This project is a wonderful example of that."
"We see this project as being transformative," President Lapidus said. "I try not to use that word very often because I think it's overused, but I think in this case it's fitting. I think it has absolutely incredible potential."
"This is a public-public-public partnership," Polito said. "What I love about this is the potential here is great, not only for economic development downtown, but for the students who are engaged in learning.
"When the next generation of students stays here, lives here, and raises their families here, that brings a lot of stability to a community," she continued. "We will work with you because it's a team effort."
Massachusetts Lt. Gov. Karyn Polito toured the Theater Block with President Lapidus and Fitchburg Mayor Stephen DiNatale on March 22, offering the administration's support for the project.