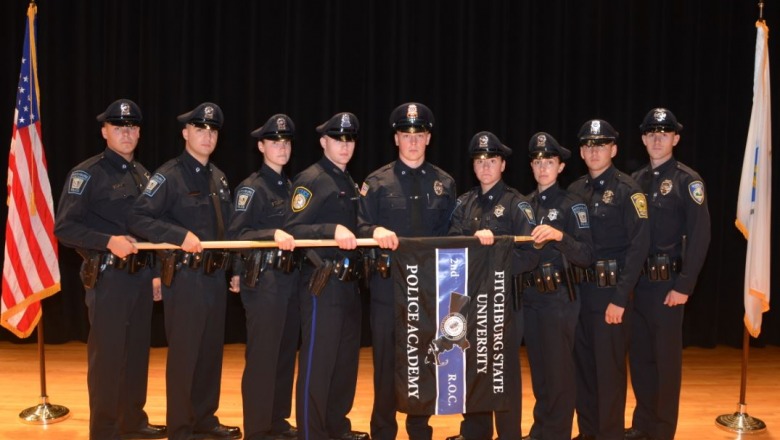 police program
recently completed their certification to work as police officers in municipal departments across Massachusetts.
The graduation ceremony was held Friday, Sept. 13 at Weston Auditorium on the Fitchburg State campus.
Fitchburg State's program, believed to be the first of its kind in the nation, prepares students with bachelor's and master's degrees in criminal justice as well as certification to work in municipal police departments across the state. The nine graduates on Friday are now beginning their year of master's studies.
"This is an extraordinary accomplishment," Fitchburg State President Richard S. Lapidus told the graduates and guests at the ceremony, acknowledging years of diligence in academic and physical training. "I know it will serve them well as they serve the communities that employ them."
Municipal Police Training Committee Interim Executive Director Robert Ferullo Jr. saluted the graduates as well as the University for the vision to create the program. "You are about to embark on a profession that is second to none," he told the graduates, adding that the University has created a "cutting edge" program.
Academy Director Lisa Lane McCarty had warm words for the graduates as well as the training staff who supervised the 17 week academy the graduates completed this summer. "There is nothing you all cannot achieve," she said.
Class Leader Adam Hyde spoke for his classmates. "Starting off on day one, we were all shaking in our boots," he recalled. "We pushed each other to do better every day."
The experience brought them closer and showed them the importance of relying on one another. "We have created a bond between us like no other," Hyde said. "We may be small in numbers but this is a family that will all have each other's backs."
Of the nine graduates, four have already secured full-time work as police officers in Massachusetts.
The graduates are Matthew Beal of Townsend; Tyler Brabham of Blackstone; Jessica Ferreira of Attleboro; Andrew Gower of Acton; Adam Hyde of Shirley; Ryan Manganelli of Waltham; Madison Medina of Pelham, N.H.; Alaina Socrat of Douglas; and Jayson Urato of Leominster.
The second recruit officer class of Fitchburg State University's groundbreaking