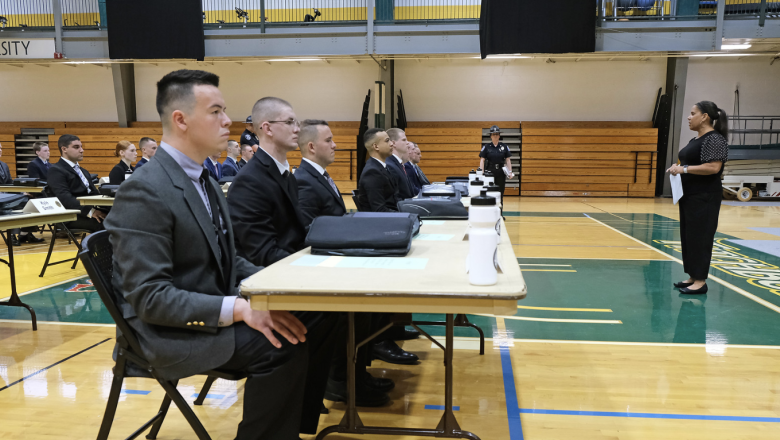 On Saturday, they crossed the stage at Fitchburg State University's 126th commencement exercises to collect their bachelor's degrees in criminal justice. Two days later, they were standing at attention and obeying orders on day one of the 17-week police academy that will turn them into police officers.
Fitchburg State's 5th Recruit Officer Course (ROC) began Monday, May 16, with 23 future officers reporting for duty. It is the largest cohort yet in the university's groundbreaking police program, in which students complete their bachelor's and master's degrees, plus full certification to work in municipal police departments across Massachusetts and other states, in just five years.
The program, developed by the university in close partnership with the state's Municipal Police Training Committee (MPTC), is believed to be the first of its kind in the nation. The Fitchburg State program graduates have been in high demand; of the 23 members of the newest recruit officer course, eight have already been hired by police departments and five others are in the hiring process.
Natick Police Chief James Hicks, chair of the MPTC, addressed the recruits during the academy's first day. He recalled there was skepticism about the new program when it was first created, with questions about whether its academic and training components could be successfully fused over its five years. The model has been shown to work, said Chief Hicks, whose own department has hired two members of the 5th ROC.
He told the recruits yesterday they will be well-prepared for their chosen profession by the experiences they have had in college alongside diverse classmates.
Academy Director Lisa Lane McCarty told the recruit officers that while the next 17 weeks will be challenging and stressful, they have been well-prepared. 
"Your success is my highest priority," she said. "I have faith in each and every one of you."
Interim Associate Vice President for Academic Affairs Franca Barricelli also addressed the 5th ROC during their first day of academy training. Congratulating them on finishing their bachelor's degrees days prior, Barricelli encouraged the students to use their academic training as the foundation of lifelong learning.
She also praised the recruit officers for sticking with their rigorous program. "We're very proud of you," Barricelli said. "You're a resilient group. You've stayed the course and you've kept going."
The summer academy will include such classes as emergency vehicle operations, field sobriety training, active shooter response, and other practical and scenario-based training. The recruit officers will graduate as police officers in September and will then begin their master's degrees in criminal justice.
To learn more about the program and curriculum, visit https://www.fitchburgstate.edu/academics/programs/police-program-41-concentration-criminal-justice-bs.