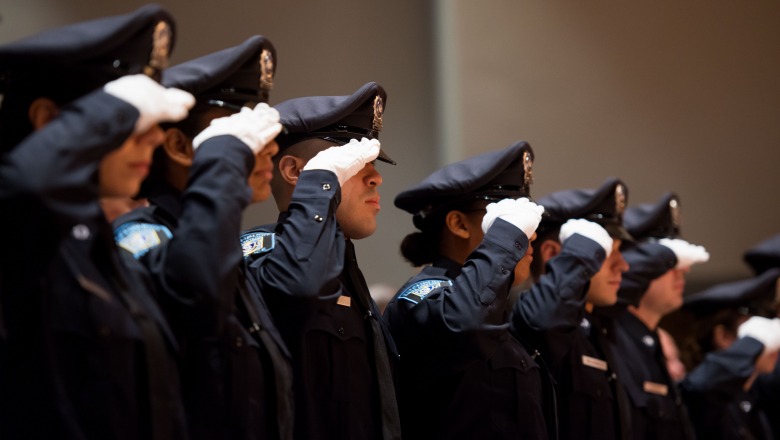 The first recruit officer class of Fitchburg State University's police program took the oath of honor Thursday afternoon, marking a milestone in the program believed to be the first of its kind in the nation.
Fitchburg State created the five-year police program in close collaboration with the state's Municipal Police Training Committee. Graduates of the program will finish with bachelor's and master's degrees as well as certification to work full-time in municipal police departments across Massachusetts.
After years of academic study, the recruit officers spent the last 17 weeks in a comprehensive program of physical training and tactical skills development that included qualification at the firing range and emergency vehicle operations.
Fitchburg State President Richard S. Lapidus told the graduates to be proud of their accomplishments and their embodiment of the University's motto of perseverance.
MPTC Executive Director Daniel Zivkovich said the graduates will be unrivaled candidates for police posts as they enter the labor force. Addressing hiring authorities at those departments, Zivkovich said, "You will hire someone who demonstrated the persistence, the dedication and the commitment to the profession that other candidates have not had to demonstrate."
"Congratulations for achieving what few your age have accomplished," he added to the graduates.
Zivkovich also saluted Fitchburg State leadership and faculty for nurturing the evolving program from concept to fruition.
Zivkovich told the graduates to serve with honor, courage and commitment to their communities, their profession and themselves. "Never settle for just being good enough," he said. "There is no room for 'good enough' in policing. You have an obligation to always be the best that you can be."
Academy Director Lisa Lane McCarty said the graduates should feel great pride for the achievements. "We're bonded for life for what we've been through together," she said.
Class Leader Ryan J. Richard of Shirley told his fellow graduates he would follow them into any situation not knowing the outcome. "We are not nine individuals anymore," he said. "We are a team."
The officers sworn in Thursday are: John A. Francis of Quincy; Tyler H. Frati of Hubbardston; Nicholas J. McLaughlin of Fitchburg; Jonathan R. Paiva of Marlborough; Jami S. Parker of Leominster; Nicole T. Patterson of Littleton; Ryan J. Richard of Shirley; Morgan R. Steele of Somerset; and Claritza L. Taylor of Westminster.