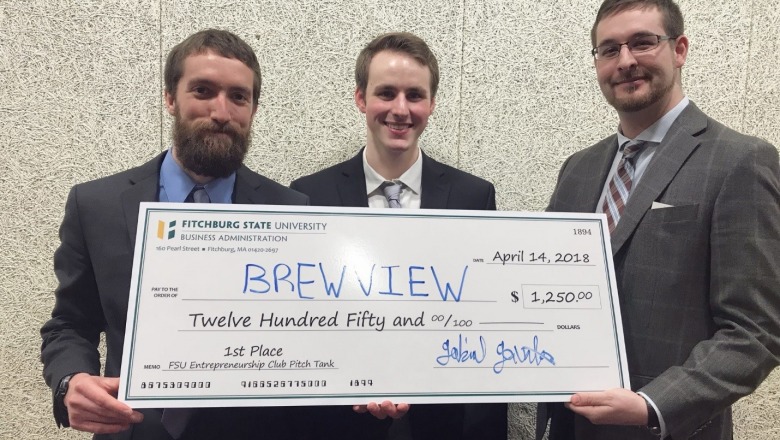 Sullivan's beer-rating app called BrewView won the top prize at the contest, scoring highest among a dozen finalists at the contest's recent judging.
"I've brewed beer myself and I like to drink craft beer," said Sullivan, who's partial to IPAs. "I've used a couple apps before and they seemed to be lacking. I wanted to make an app that's better than what's already out there."
With his team members Eric Anderson and Ben Donahue, Sullivan developed the outline of an interactive app that will allow users to rate beer and breweries. In its earliest incarnation, the group planned to include wineries and other related products in the app, but the panel of expert judges recommended they narrow their focus to beer.
Sullivan, who will complete his MBA at Fitchburg State next spring, also earned an undergraduate degree in business administration at the University. He is currently working as an administrative assistant in the Amelia V. Gallucci-Cirio Library.
He said he enjoyed the Pitch Tank process and credited Entrepreneurship Society President Gabriel Gavrilov for organization a good contest. "Gabe did a great job putting it together and the judges gave us some valuable feedback," he said.
Sullivan said the prize money will help the app developers get some professional assistance to launch the service.
The second prize of $750 went to The Third Clothing, a clothing line developed by Roderick Squier III, who is studying marketing with a minor in computer science. The third place prize of $500 went to Zachary Joseph, who is developing a line of photochromic clothing that contains a special ink that changes color when exposed to ultraviolet rays. Joseph is studying graphic design.
Tyler Sullivan is a longtime beer aficionado, and thanks to a strong performance by his team at the Entrepreneurship Society's inaugural Pitch Tank contest, he's $1,250 closer to turning his hobby into a business.