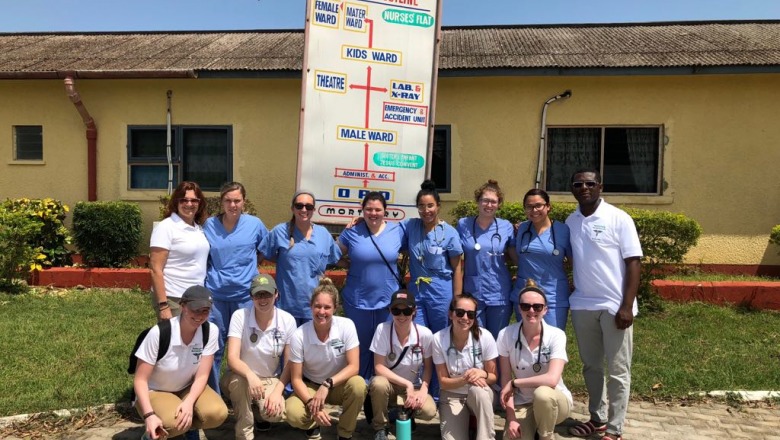 For a dozen Fitchburg State nursing students, their summer trip to the African nation of Ghana proved to be a life-changing experience.
The international voyage voyage was part of a course on community health taught by Professors Deborah Benes and Akwasi Duah. Coursework on the main campus set the stage for the overseas voyage where students worked with local populations in settings ranging from hospitals and clinics to an open-air market and homes.
Benes said the visit was the first phase in an exchange program where nursing students from Ghana will come to Fitchburg State next year and work in clinical settings in this area. The next cohort of Fitchburg State students will go to Ghana in 2020.
"I'm creating my small army of nurses," she said. "These first 12 can educate others."
Saisha Matias '19 of Worcester had long been interested in travel to Ghana, because growing up her pastor often told stories of his missionary trips there. "I made it a goal to travel to Ghana to do work in those communities," she said. "When I heard about the things we would be doing on this trip, such as providing health fairs in communities where people do not have easy access to health care, I felt instantly in my heart this trip was for me. I knew this would be a humbling experience and I did everything possible to make sure I could go."
The prospect of a meaningful experience also resonated with Bourne native Sarah Catton '19, who always wanted to be a nurse. "I never had a Plan B when it came to what I wanted to do with my career," she said. "Having a chance to see what health care is like in another country and being able to make a difference in others' lives was an opportunity I couldn't pass up."
Catton had only been out of the United States once before, for a spring break trip to Bermuda, so she knew she was in for world-enlarging experience. Her excitement also more than compensated for any nervousness she had about being so far from friends and family.
"Many of the local people wanted to talk to us," Catton said. "They wanted to show us the goods that they were selling, whether it was food, clothing or art. They were proud of what they had to offer. Many people would ask if they could come back to America with us because they wanted a chance to make something more out of their lives. Children wanted to touch us, be around us, talk to us, and they were so friendly."
"What surprised me most was how welcoming everyone was," added Matias. "I never felt uncomfortable talking with the locals. Even despite the language barrier, they made me feel like I was welcomed and appreciated at all times."
The eventful voyage had students working with local populations at health fairs at a bustling marketplace and a rural fishing village, along with excursions to hospitals large and small and even some door-to-door visits. In all, they cared for hundreds of people in their two weeks in Ghana.
"We even spent an afternoon in a middle school teaching students about sex education," Benes said. "The people we cared for were so gracious. They waited patiently to see us, and they thanked us for being there."
"The students were amazed that these people had so little, but they were so happy," said Duah.
Matias certainly plans to keep that spirit alive. "As I worked in Ghana, there was one thought that stuck with me: Be the change you want to see," she said. "With the growing chaos in the world—homicides, suicides, opiate-related deaths, and gang-related issues—be someone that can be a positive influence to bring change. We must take a hold of this opportunity and expand it around the world to help others. This experience has marked my life forever."
"This experience has given me a chance to become more confident in my nursing skills and in myself," Catton added. "It has made me more culturally aware and appreciative of all that we have here. I plan on looking into how to travel abroad as a nurse and to help in hospitals in countries like Ghana. This trip helped me realize that I can do anything and I can continue to grow in my personal and professional life."