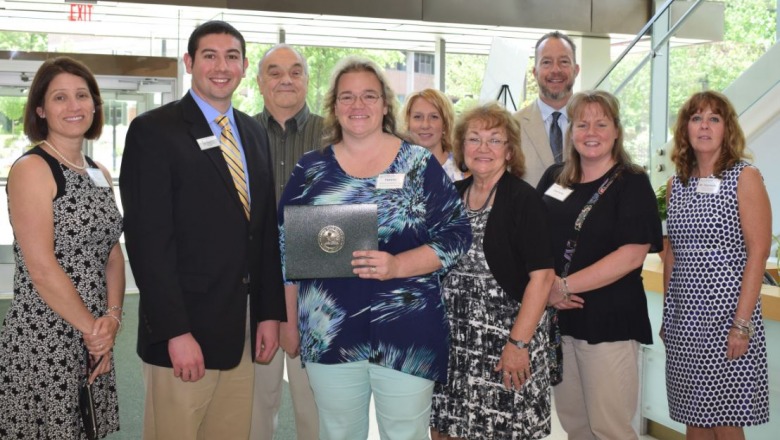 The honor was bestowed at the University's annual retired educators' luncheon, which brings together Fitchburg State alumni who went on to careers in education.
Anderson grew up in Hudson, N.H. and studied special education with a dual certification at Fitchburg State. She graduated in 1994 and went to work at North Middlesex, where she student taught while enrolled at Fitchburg State.
Anderson is described as a dedicated professional who sees only the highest potential in her students. Varnum Brook School Principal Tara Hanley credited Anderson for her work creating programs and educational plans, coordinating services with parents and mentoring teachers. "Most importantly, she has built an understanding among our entire staff about what it means to every child that they are recognized as individuals who deserve an excellent education," Hanley said.
She has helped organize her school's participation in the Special Olympics for over 20 years and established the "Sidekicks" program that brings peer buddies from outside her substantially separate classroom to the games. With this and other efforts, Anderson has created a community where her students are embraced by their peers and every teacher and administrator in the school.
She lives in Pepperell with her husband, Jeremy Anderson, and two children, Emily and Nicholas.
The teaching award, presented by the Alumni Association, is named for Joel D. Miller, who served as a state senator and member of the Massachusetts Board of Education. He is considered one of the three founders of the State Normal School in Fitchburg. In 1903, he was honored with the name of one of the University's first dormitories, Miller Hall. Established in 1955, this cash award is presented to an alumnus who is recognized as an outstanding educator.
Tammy Anderson, a special education teacher in the North Middlesex Regional School District for 23 years, was recently presented Fitchburg State University's Joel D. Miller Award for teaching excellence.