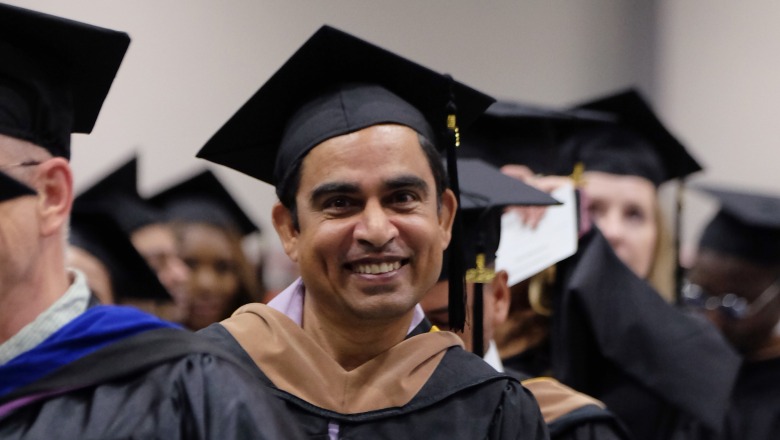 Fitchburg State University's School of Graduate, Online and Continuing Education will offer two new concentrations for its popular online Master of Business Administration program. The MBA in business analytics management will launch in September, with the MBA in finance starting in October.
"These new concentrations offer new opportunities for our MBA students and focus on areas where there is growing employer demand and increased need for employees with these skill sets and knowledge," said Dean of the School of Graduate, Online and Continuing Education Becky Copper-Glenz. "These concentrations represent how our MBA program and faculty strive to keep their curriculum relevant and up to date to meet the needs of future employers and students."
Those who complete the MBA in Business Analytics Management will gain leadership insights to help organizations maximize growth and efficiency. In this affordable, accredited program, students will explore how to lead data-based initiatives to improve processes, identify opportunities, and solve complex issues. Utilize data visualization and tools such as Tableau to analyze, interpret, and communicate key insights to diverse stakeholders, from C-suite executives to front-line staff.
Upon program completion, graduates will be prepared with advanced analytics skills and tactics to pursue senior-level roles such as:
Business Intelligence Analyst
Data Analyst
Business Data Scientist
Data Engineer
Quantitative Analyst
Data Analytics Consultant
Marketing Analyst
Big Data Engineer
Applications for the program's launch are being accepted through Saturday, July 30, with the first class scheduled to begin Friday, Sept. 2.
The MBA in Finance will support graduates with key insights into financial analytical tools, portfolio management, capital sourcing, valuation, and more. Startups, entrepreneurial ventures, e-commerce, and overall globalization have reshaped the market and created a pressing need for qualified finance leaders who understand today's dynamic international environment. 
In this affordable and accredited online program, students will explore global finance, including purchasing power parity and the functions and structure of the foreign exchange market. Learn how to prepare and interpret financial analysis for managers, lenders, and diverse investors, such as angel investors, venture capitalists, and financial institutions.
Upon completion of this finance program, you will be prepared for a wide range of career opportunities such as:
Personal Financial Advisor
Financial Analyst
Management Analyst
Business Intelligence Analyst
Business Analytics Specialist
Management Consultant
Operations Analyst
Applications for the first class are being accepted through Monday, Sept. 19. The first class will begin Thursday, Oct. 27.
MBA programs at Fitchburg State are accredited by the International Accreditation Council for Business Education (IACBE).
The School of Graduate, Online and Continuing Education will hold a virtual application workshop at 12 p.m. Tuesday, July 19. Register for the free workshop at https://admissions.fitchburgstate.edu/register/GradAppWorkshopJuly22
Learn more about all of Fitchburg State's accelerated online programs at online.fitchburgstate.edu.