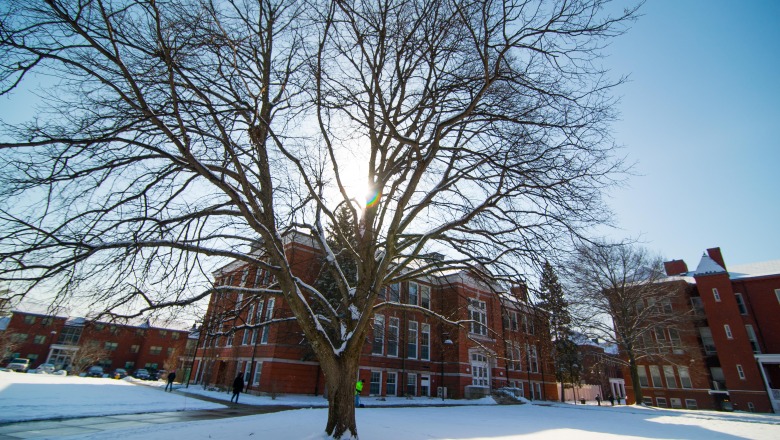 The board also approved Fitchburg State's new bachelor's degree in educational studies.
The environmental public health (EPH) degree is an interdisciplinary program spanning community health, geospatial data analysis, social justice, and community service. The major will be available for students who are interested in health sciences but seek an alternative career choice than those offered in traditional STEM or health professions majors. It focuses on the relationships between people and their environment, promotes human health and well-being, and fosters healthy and safe communities.
Students graduating with a B.S. in EPH will be qualified to collect, review, study and analyze public health data. They will be able to work to develop strategies and educational programs to mitigate the persistence and transmission of communicable diseases, advance policies and programs to reduce chemical and other environmental exposures, protect people from environmental hazards, and provide communities with healthier environments. The EPH major will also provide another option for students who choose a post-baccalaureate studies in the health professions such as graduate entry programs in Nursing or M.S. degrees in health professions or sciences.
"This unique program aligns with Fitchburg State's mission, serving the needs of communities in the Commonwealth while blending a professional education with a liberal arts core," said University President Richard S. Lapidus. "Students who complete this program will be poised for a wide array of rewarding careers in public health."
Fitchburg State's new educational studies degree program—also the only one of its kind at a public institution in Massachusetts—will provide an opportunity for students to examine broad educational topics from a number of diverse perspectives. The program will bridge educational concepts and principals in political, historical, theoretical, and social contexts. Graduates of the educational studies non-licensure program will have a broad view of education necessary for career paths that require a background in formal and informal educational settings.
"This program will serve students who wish to study education but do not necessarily want to be classroom teachers," Lapidus said. "We know there is a strong demand for graduates with education-related and instructionally based skills in school support contexts, industry, media, and human services. This interdisciplinary program will complement many majors on campus and can serve as a second major to any student at Fitchburg State."
The new programs will launch this fall.
The Massachusetts Board of Higher Education has approved two new degree programs at Fitchburg State University, including the only undergraduate degree in environmental public health offered at any public institution in New England.