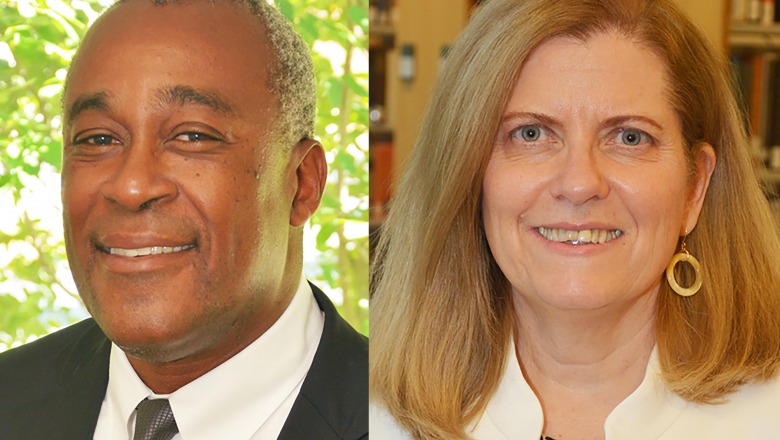 Two deans are among the new faces at Fitchburg State University this summer.
Keith M. Williamson, Ph.D., is the University's new Dean of Business and Technology. The new post reflects an academic reorganization at Fitchburg State, with Dr. Williamson leading a division that includes the departments of Business Administration, Industrial Technology and Computer Science.
Williamson is an experienced administrator and researcher with significant appointments in industry and academia. He is the former Dean of the College of Engineering and Technology at Virginia State University where he served for over a decade strengthening engineering, computer science, and technology programs and obtaining numerous accreditations. Most recently, he was a visiting scholar at Old Dominion University where previously he held a dual appointment as professor of mechanical engineering and director for the Center for Urban Education. He has served as a member of the Board of Directors for the Commonwealth Center for Advanced Manufacturing (CCAM) which is a public-private partnership between universities and industry partners including Airbus, Rolls-Royce, Siemens, and Newport News Shipbuilding. Prior to his work in academia, Williamson served as a naval architect and program manager for the U.S. Navy. 
Williamson's teaching, research, and publication interests span a range of topics including transport phenomena, metallurgy, and university-K12 partnerships. He is a strong advocate for information technology literacy within public schools, and in 2006 with support from the National Science Foundation, led efforts for science and engineering graduate students from Old Dominion University to share research experiences with 3rd and 4th grade teachers in urban elementary schools.
Williamson holds a Ph.D. in mechanical engineering from Tufts University, an M.S. in mechanical engineering from Northeastern University, and a B.S. in mechanical engineering from Bucknell University.
Williamson will provide experience and leadership to continue to grow and strengthen the University's programs in the areas of business and technology.
Jacalyn Kremer has assumed her role as Dean of the Amelia V. Gallucci-Cirio Library. She comes to Fitchburg State from Fairfield University in Connecticut, where her work focused on advancing student learning and supporting faculty teaching and scholarship. Kremer is a leader in promoting academic integrity initiatives and working collaboratively with faculty to explore the complex issues of academic honesty. She led a team of librarians in developing open source online academic integrity tutorials that were recognized with Fairfield's President's Innovation Award.
Prior to becoming a librarian, Kremer was an actuarial benefits consultant and worked with corporate clients in designing pension plans that met their company's financial and human resources objectives. She has put this training to use in leading a library assessment team to collaboratively explore, identify, adopt, and apply effective assessment processes for library operations and services, always with a focus on student learning. She wrote the forthcoming book chapter about the work of the assessment team entitled "Answering the Question Before It's Asked: Building a Library Impact Dashboard" in Academic Libraries and the Academy: Strategies and Approaches to Demonstrate Your Value, Impact, and Return on Investment.
Kremer graduated from LeMoyne College in Syracuse, N.Y. with a degree in business and mathematics. She has a master's in library science from Southern Connecticut State University and a certificate in higher education leadership and management from UMASS Amherst.
At Fitchburg State, Kremer looks forward to collaborating with partners across the University and the community to advance the institution's mission and strategic plan.