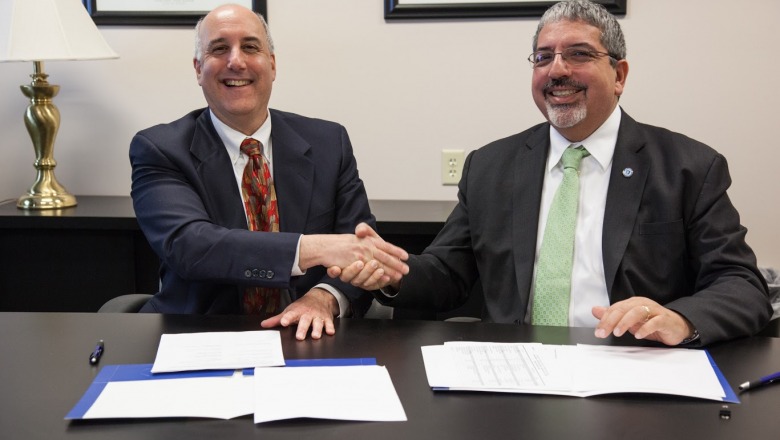 Quinsigamond Community College in Worcester has extended its close partnership with Fitchburg State University with a Deaf Studies articulation agreement.
"This agreement offers QCC students enhanced educational and career opportunities, further demonstrating QCC's continued commitment to students' success," said QCC's President Dr. Luis G. Pedraja. "Deaf studies is a fast growing career field, with high growth rates and average starting salaries over $44,000."
The signing of the agreement will enable QCC students who graduate from the QCC General Studies – Deaf Studies program to seamlessly continue their education at Fitchburg State. The agreement provides guaranteed acceptance into the deaf studies and American Sign Language baccalaureate programs at Fitchburg State as long as all criteria are met. Students must meet GPA requirements specified in the agreement, and follow the transfer admissions process for Fitchburg State.
Fitchburg State President Richard S. Lapidus said QCC's associate degree aligns with his institution's expanded deaf studies and American Sign Language programs.
"This agreement provides a unique opportunity for students to advance their studies and gain valuable career credentials," President Lapidus said. "Students who complete these two degree programs will have a solid liberal arts foundation and skills that will serve them on a variety of career paths including human services, nursing and exercise and sports science."
QCC's deaf studies program prepares students to have the necessary communication skills and cultural knowledge to work with deaf and hard of hearing individuals. Fitchburg State's deaf studies program builds on the QCC degree program, encouraging students to analyze existing stereotypes and policies relating to deaf and hard-of-hearing people in order to engage and effect change in the community at large. Some career opportunities for this degree include interpreters, translators, speech pathologists and audiologists.